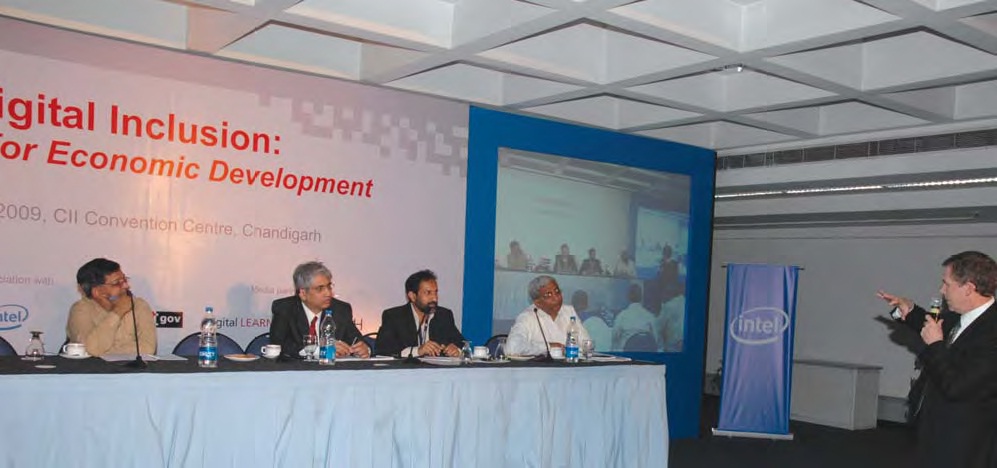 From left to right: Representative from BSNl, Taposh Mishra, Head -Govt. and  PSU Group , Rajen Varada, The National Coordinator of the education community of UN Solution Exchange and Ashis Sanyal, Sr. Director, Dept. of IT, Govt. of India
The Conference, hosted by Centre for Science, Development, and Media Studies (CSDMS) in association with Intel and UN Solution Exchange, has become the place for those with an interest in digital inclusion to meet, mingle and deliberate over the latest in policy developments, technological advances, and ground-level best practice. Luminaries from the domain of digital inclusion were invited to take their places at 'Digital Inclusion: A Pathway for Economic Development', the one-day conference held on 19th March 2009 at Chandigarh, India.
Opening session
The conference started with a workshop on ICT4D hosted by UN Solution Exchange which was followed by the opening plenary and the panel discussion sessions where several distinguished speakers set the stage for the discussion by laying out the challenges facing the national and international community and the opportunities posed by new information technologies and the networked global economy. A number of central points emerged from the opening session.
First, knowledge and information are increasingly becoming the central components of innovation, growth and sustainable development. Its effective mobilisation and use, dramatically affects the efficiency and effectiveness with which the other factors of production are mobilised; hence advantages in the efficient use of knowledge and information have a multiplying effect, and those less able to access and harness information and knowledge effectively risk falling behind.
The second, related point that emerged is that new information and communications technologies, their power, speed, and global reach, provide unprecedented opportunities for such sharing of information and knowledge. The explosive growth of global information and communications networks (including the Internet) and the equally dramatic expansion in the power and affordability of information technologies amount to nothing less than an economic revolution with profound global implications
Third, the digital divide is real and growing, and has profound implications. This divide is not just about access to computers or telephones; it is a deeper and more profound divide that reflects and reinforces more fundamental economic and social divides between and within countries
The policy challenges for developing countries like India and for the international community as a whole are daunting and complex. Bridging the digital divide is not simply about giving people access to tools. It is about creating policy and regulatory environments, institutional frameworks, and human capacities that foster information flows, innovation, and effective use of the world's knowledge resources in every dimension of sustainable development, from health, agriculture, medicine and education to trade and economic development, effective governance, etc.
Several speakers highlighted the important efforts and welcomed the opportunity of this dialogue to examine the challenges facing the states in this context. John Davies, Vice President, Sales and Marketing Group General Manager, Intel World Ahead Programme, put forth his thoughts as the Guest of Honour. An excerpt from his talk reads as below:
While highlighting some of the features of the Intel World Ahead Programme, like the 'Accessibility', 'Connectivity', Education', and 'Content' components, John cited some examples with reference to the international community on how to lead with innovation. He suggested some of the approaches that can be adopted in order to overcome the current global recession period. G8 nations and PRC (People's Republic of China) are investing more than $1.5 trillion to stimulate their economies to emerge from the recession faster and stronger. He also said, government IT investments help creates jobs, which is a critical need during recession. Increased broadband and IT investment should be part of every country's recovery plan. Stimulus infrastructure spending on roads, rail, power should include broadband connectivity.
The opening session was also attended by Sanjay Kumar, the Secretary, IT, Haryana, who was also the Chief Guest of the conference.
The other guest of the evening, Ashish Sanyal, Sr. Director, Dept of Information and Technology, added some positive notes to the whole discussions. He said, 'we can still talk about 14-15 % telephony in a land, where ICT sector is increasing and mobile phones are being added (at the rate of) 10 million a month which is more than the population of Finland. If we increase tele-density by 1%, the GDP growth becomes quite vital.'
Panel discussion 1: Digital Inclusion: A pathway for economic development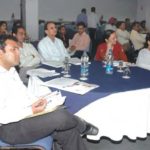 The Digital Inclusion and Economic Development session primarily brainstormed about the progress in National e-Governance Plan (NeGP) in northern India in terms of rolling out mission mode projects like CSCs, State Data Centres, State Wide Area Networks, etc. It also focused on  accelerating e-governance initiatives for Government to citizen interface, like land records, property certifications and  public distribution system, etc.
The first panel discussion session deliberated on increasing entrepreneurship and enhancing competitiveness of the growing sectors, relating to the Internet and broadband combined with IT solutions that have the potential to bring in efficiencies and competitiveness of the SME sector.
The feeling was strong that, if all goes well, India can lead the world in broadband penetration and Internet access.  The panel discussion was moderated by Rajen Varada, The National Co-ordinator of the education community of UN Solution Exchange.
The speakers included Ashis Sanyal, Sr. Director, Department of IT, Government of India; Taposh Misra, Head– Govt and PSU Group, ICICI Bank Ltd. and a Representative from BSNL.  Starting off the discussion, Rajen Varada said that there is a need to look at the e-Governance  project in retrospect and what are the timelines that are being set and where is the Indian IT  sector heading towards in the next couple of years. He also said that sustainability is a major  issue in the near future and called for some of the action plans which can act as leverage in such a scenario.
S V Rajendra, President, PCO Association and a participant of the conclave, said that fi nancial  stability, operational functionality and sustainability are very important when it  comes to PCOs (Public Call Offi ce). The future is of e-PCOs. Another participant also raised the  point that even if one says that there are about 60 lakh PCOs in the country, the question is  how many PCOs are situated in the rural areas. He further added that if one looks at the  Common Service Centres (CSCs) schemes it has guaranteed revenues for 4 years. So we have  taken care of the fi nancial subsidiary. There are 25,000 PCOs and 27,000 e-PCOs will be  created in the fi rst phase. The fact that India's vertical connectivity is very strong also  emerged during the discussion.
One of the key challenges that emerged out of the discussions is defi ning an appropriate role for the government in addressing the digital divide. Several participants pointed out that though creating a proper policy and regulatory environment is fundamentally important, the government's role goes much beyond just that.

Panel discussion II: ICT in education: socio-economic imperatives

The second panel discussion on ICT in Education: Socio-Economic Imperatives was moderated by Ashish Garg, Asia Regional Coordinator, Global eSchools & Communities Initiative (GeSCI). At the outset, she emphasised the importance of education, against something which is there on everybody's mind, that is the global economic downtrend, and its effect on children and of course, education.

The major point that came out of panel dicussion was that putting capital to work not just for    the infrastructure, but for creating a capacity for innovation is something we haven't yet imagined. If the investment is going to make a difference, and helps lay crops for the future, that is what investment means. ICT in education is important for access to quality education across gender, and many other fi elds. through workshops.

This conference celebrated achievements and showcased successes in the fi eld of e- Inclusion from across three Indian states. It helped industry, practitioners and policy makers to take stock of what still lies ahead and renew their commitments to achieve inclusion in the information society for all in order to overcome the current scenario of global recession and head towards economic development in a society that provides equal opportunities to all.