UNCTAD's report focuses on mobile telephony and telecentres
A United Nations Conference on Trade and Development, (UNCTAD) report states that use of modern ICT gadgets like the mobile phones and net access are helping to narrow the digital bridge between the rich nations and emerging economies.
The Information Economy Report 2007 – 2008 finds that mobile telephones and telecentres support livelihoods in developing countries. The new UNCTAD report states that 'a decline in the cost of ICT has extended its use by the poor, who capitalise especially on information obtained by telephone to support livelihoods in agriculture and various small businesses'. The study illustrates ICT contributions to poverty reduction by focusing on two examples; the use of mobile telephones for conducting micro-business in Africa; and the creation of telecentres for the benefit of poor communities. In Africa, there were 50 million new mobile subscribers in 2006, and in 2007 the total number of mobile subscriptions reached an estimated 200 million. This means an average of more than 20 active cell phones per 100 persons.
Mobile telephony has practically replaced fixed lines in many countries. The reported noted that the flexibility and ease of mobile technology has led to its widespread use in business transactions, most particularly by very small firms or micro-businesses. To understand how telecentres support livelihoods among the poor, UNCTAD surveyed a number of telecentre networks in Bangladesh and India. The survey assessed which services telecentres are providing, who benefits from those services, and what are the key environmental and institutional factors that enable telecentres to help the poor raise living standards. The results show that most telecentres are concentrating on providing access to ICT and on developing basic ICT skills. In line with the type of services offered, telecentres are primarily used for information and education purposes.
Airtel calling card services in Singapore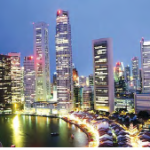 In order to attract thousands of NRI's living in Singapore, Bharti Airtel is planning to launch its calling card services in Singapore. Next, Bharti will launch these services in Canada.
Currently, the company provides this service in the United States and the United Kingdom, where its offerings are 15-30 percent cheaper than the prevailing call rates there. Calling cards services will enable Indians and NRI's to make calls to their native country, they can purchase online and use across any landline and mobile phone. The services will be available to around 400,000 NRIs and students in Singapore as a pre-paid option. The service will allow subscribers in Singapore to make calls to India at 10.5 cents/minute on a toll-free access number. The subscribers can also call other countries, as per the list available on Airtel CallHome website. In the promotional period, Airtel is providing 70 percent  extra talk time to its subscribers, bringing effective call rates down to 6.2 cents/minute.
BSNL to connect 1.48 lakh villages through Internet
Soon, Bharat Snachar Nigam Ltd. (BSNL) will connect 1.48 lakh more villages with high-speed Internet connection in the coming six months. So far, around 30,000 villages are getting this facility.
The PSU would connect all districts and blocks of the country with high-speed Internet connectivity by March 2009 covering 5,000 cities. At present, 95 per cent of the district headquarters and about 44 per cent of the blocks are covered under BSNL's broadband connectivity. Government will initially connect 5,000 blocks through wireless broadband services soon after the allocation of the spectrum, which will connect all villages coming within a radius of 10 km of the block headquarter. The projects aims to help institutional users like schools, public health centers, village panchayats and the Community Service Centres (CSCs) meant for providing e-governance and data services to the rural areas. Also, to boost telephony in rural areas, BSNL recently introduced a tariff plan called Gramin 75, under which fixed monthly charges have been reduced from INR 110 to INR 75.
Every second Indian to have a mobile by 2012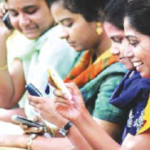 A renowned London-based research firm, Business Monitor International stated that 612 million mobile subscribers by 2012 will help India clock a mobile teledensity of roughly 51 percent by 2012.
India is already the world's second largest mobile market, behind China's 500 plus million mobile subscriber base. The new numbers overtake earlier estimates, including from UBS, Citigroup and Credit Suisse predicting a mobile population of between 400 to 450 million by March 2010. Merrill Lynch and Lehman Brothers have been more even conservative, betting on a base of just 400 million by 2010. However, India will reach this milestone in 2009 itself. India's mobile revolution has been a huge social leveler, with the growing number of users tying a diverse nation in a manner rarely seen before. According to Richard Branson, founder, Virgin Group, which tied up with Tata Teleservices to launch branded services in India recently said, with more than 215 million Indians aged between 14 and 25 years over the next three years we expect to be adding 50 million new youth subscribers.