A wiki is a very simple collaborative technology where a community collectively collaborate to work on pages and a blog is much more of a journal, as it publishes individual entries in a linear fashion
Introduction

The Foundation for Peer to Peer Alternatives (P2P Foundation) is a global cyber-collective and advocacy group that researches, documents, and promotes peer to peer alternatives in all domains of social life. It believes that the emerging social forms of peer production, peer governance, and peer property, are a fundamental social advancement, that its weaknesses and pitfalls have to be studied with care, and that it may prove to a social logic that is superior to for-profit production. The story of setting up of an online presence to influence the emerging debate on peer production goes like this; "our technological tools were very simple, and had to be very cheap to maintain, and easy to use, as we are a community of volunteers with no organisational budget so far. The Wiki was set up in November 2005, the blog in February 2006, but the work on the wiki started about the same time, staying mostly empty for the 3 first months. This makes it easier to evaluate our achievement so far, after approximately two years of operation.

The use of MediaWiki

A wiki is a very simple collaborative technology which allows a community to work together on the production of pages which can be changed by all its members. It's use is very intuitive, at least for the basic functionalities of creating and organising pages.

It was realised at the very start that total openness was counterproductive. Indeed, it was not used intensively for the first three months, the wiki was initially overwhelmed by spam, making it unusable. So, after three-months of passive existence, it was moved to active production, but also to a new principle of admission by cooptation. This means that every existent member has the right to grant access to on getting request. This introduces a very simple measure of positive social control, as each member will naturally feel responsible for the new members which he has given access. While it makes for much slower growth of the number of contributors, it has also the effect of filtering for motivation. It's a threshold that is very low, but still demands the effort to communicate one's desire to participate. In turn, this creates an initial social contact which can be built on. Finally, it has the benefit of creating a social dynamic based on concentric circles of engagement.

The principle that we use for content creation is called 'opportunistic' updating. This means that we do not necessarily create original content ourselves, but rather use a remix strategy of cutting and pasting significant external contributions in a new combined unity. This is based on the notion that the collective intelligence already exists on the subject, but that it needs a coherent framework so that it can be understood and shared more easily. It is this framework that our wiki provides. We follow the fair use principles and every citation is sourced to the original.

The organisation of the wiki is quite simple. We use a three-column organisation on our main page. On the left hand side, we present ourselves, our aims, our associates, and the main material that we have produced ourselves on the topic. The right hand column is a directory of material per format. This means we have separate directories for individuals (a who's who), for movements (association directory), for podcasts (online audio material), for webcasts (online video), etc.. Finally, in the middle column, we collate material per subject, as in peer to peer learning, bottom-up forms of facilitation and governance, peer production as a business model, etc.. These directories are automatically produced by giving each new article a minimum of two tags. One is the format tag (is it an article, a biography, a book review, etc..), one a subject tag, which indicates the social field (education, business, policy, design, etc..). In this way, the above directories are automatically created. Our next step is to create contextual introductions to each of these sections, so that we do not have a mere list of encyclopedic entries, but a guided and curated introduction to the material, which can be approached in a more structural manner.

Participation in the wiki is not massive in terms of production. As the founder, I do most of the work, probably around 85 percent, and a dozen or so additional collaborators create new pages or edit old ones to make them better. Nevertheless, despite this small base, we have created 6,000 pages of content.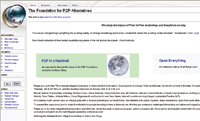 We consider our experience successful in terms of user base. The statistics page of the wiki informs us that there are 6,798 total pages in the database, 4,756 pages that are probably legitimate content pages. There have been a total of 2,721,151 page views. Given that the home page has received only 252,999 visitors, this means that we have an extremely long tail, i.e. many people, the overwhelming majority, finds us through referrals and through Google searches (more than 30,000 different keywords, according to Google analytics).

It must be said however, that a wiki also has weaknesses; it's a good tool to create collaborative content, it can generate a community that uses it as a reference, but it is not ideal for current affairs, and does not build community by itself. The talk pages of our wiki are not used very extensively, apart from the regular contributors themselves. However, it is a good object, around which to create a community of interest, provided this community has other tools.

The blog

A blog is much more of a journal, as it publishes individual entries in a linear fashion, following a reverse chronological order. Unlike the wiki, these entries cannot be changed, but they can be commented upon. This makes the blog a good tool for current awareness, commentary, and forwarding items of interest with added commentary. The blog has had very different effects that the wiki. While the wiki is used extensively, it generates little overall communication: visitors use it, but do not communicate much about it. However, almost as soon as we started our blog, the level of eMail-based contacts shot up from 5 per day, to 25 per week. What is particular also about the blogosphere is that it functions as an ecology, allowing blogs to cite each other with great ease. While our comment-sphere is very modest, we became a B-blog (the second category after the top of A-list blogs), after only one year of operation. According to Technorati we rank only 44,000th, which may not sound impressive unless you realize that there are many millions of blogs. At present we have about 600 readers per day, but in the context of the existence of many remote feed readers, this is likely to underestimate the range of our readership. From experience I can add that while prestigious newspaper editorials generate no communication whatsoever (Nation and Bangkok Post newspapers in Thailand), blog editorials do generate regular and immediate communication, not just through other blogs, but foremost to eMail. The weakness of blogs is that is little used as an archive, so that older material remains underused, though the exceptional article can be a much-cited classic.

Other electronic tools

Neither a wiki nor a blog are sufficient by themselves to maintain and organise a community. Though we could use forums for discussion, we do not, using eMail lists itself. We essentially operate around three mailing lists, one for strategic discussions (where are and should we be going), one for practical issues (who writes what, technical problems encountered), and one for research (academic or not). However, each of our members are also in continued with other communities and their mailing lists. Finally, classic eMail, one to one, one to a few, is much used on a pragmatic basis, as it would be unwise to burden a whole communities with practical issues that can be solved by involving one or two other persons.

The physical and the virtual

The issue I wanted to stress here is the power of the connection between the virtual and the physical. Meeting members of the cyber-collective, as well as other interested people, face to face, then continuing the conversation online, has provided an incredible glue for building awareness, community and a global brand, and visits are occasionally followed by local citizens organizing their own peer circle. This has become possible because the online presence has created a brand and global presence, leading to invitations for lectures, approximately 20 days every 2 months. Each lecture tour is the occasion to meet the people previously encountered online, or to continue an online relationship, after the initial physical encounter. As a rule, people you have met 'in the flesh', will respond more eagerly to invitations to contribute.

The license issue

This is an important topic for us. The MediaWiki itself asks to refrain from inputting copyrighted material, an injunction that is widely ignored, including by us, as it does not take into account fair use. But remixing fair use material creates its own problem, as the CC licenses assume that the content is our own. But how can we extend rights to material that we are citing ourselves? The licenses are therefore in practical terms useless and misleading, and we just solve this on a pragmatic basis, by making sure that our own usage is exclusively for learning, not for any commercial purpose.


For more information, consult at: wiki at http://p2pfoundation.net