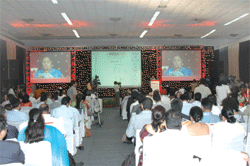 The eINDIA2008 Conference and Exhibition, a premier event on ICT4D (Information and Communication Technology for Development) in India, was held between the 29th – 31st July, 2008 at Pragati Maidan, New Delhi, India. The event, organised annually by Centre for Science, Development and Media Studies (CSDMS) and the fourth event in a row, aimed to examine and deliberate upon the use and application of ICT tools in diverse spheres like Governance, Education, Healthcare, Agriculture etc. eINDIA2008 facilitated the interaction through active conferencing, networking and showcasing of cutting edge tools and ideas that will usher in a knowledge revolution in this steadily changing information society.

The event focused on the issues relating to the application of ICT in various realms of life through its seven tracks viz., egov INDIA (e-Governance), Digital Learning INDIA (Education), Indian Telecentre Forum (Telecentres as nodes for knowledge sharing), eHealth INDIA (Healthcare), mServe INDIA (Mobile phone services as nodes for information-sharing), eAgriculture INDIA (Agriculture), and MunicipalIT (Municipal services). Apart from these, three special sessions were convened on Internet Governance, Climate Change and a workshop on the future of e-Government.

Representatives from the ICT industry, government agencies, civil society organisations, academia and the public and private sector from across the globe congregated at the conference to share knowledge on best practices and digital opportunities for development, to reflect upon the current initiatives and to exchange notes on the ideas that will shape the future of global ICT development and application.

Climate Change Adaptation in Agriculture

Global Knowledge Partnership (GKP), OneWorld South Asia (OWSA) and Centre for Science, Development and Media Studies jointly organised a panel discussion on, "Climate Change: Knowledge Pathways and Partnerships for Climate Change Adaptation Efforts in Agriculture." The session – an extension of the recently concluded GKP Virtual Forum on ICT and Climate Change – aimed at (a) developing the dialogue into an inclusive engagement with a focus on exploring knowledge needs on climate change adaptation efforts in agriculture, (b) knowledge partnerships and channels for facilitating the knowledge flow, and; (c) to deliberate on the ICT-enabled interventions to provide an enabling framework for building these partnerships and knowledge channels.

Jayalakshmi Chittoor, Programme Coordinator, CSDMS, started the session with a welcome speech. Naimur Rahman, Director, OWSA, chaired the session and delivered the inaugural address.

The other panelists in the session were, Namrata Bali, Director, SEWA Academy, Sanjay Tomar, Fellow, Center for Global Environment Research, The Energy and Resources Institute (TERI), Srinivas Garudachar, Senior Advisor, Intel-Grameen JV, Frans Neuman, Executive Secretary, Global Mountain Forum. The Panelists discussed the ways in which climate change affects the most vulnerable sections of the society (like the workers in the informal sector) and deliberated on the ways and means to minimise the negative impact of climate change on the livelihoods of millions of people.

The first panelist in the session was Namrata Bali. Namrata stated that climate change would have a massive impact on the livelihoods of the poor in developing countries by endangering food security caused by a fall in crop production and a decline in fish stocks worldwide because of water shortages and increased temperatures. Informing the participants about SEWA Academy's work, Namrata said that SEWA has both environmental and sustainable development goals. According to Namrata, most poor women are dependent on agriculture, animal husbandry and dairy for their livelihoods and any major change in climate will have adverse effects in all these livelihood options and on the people dependent on them. SEWA has been promoting the use of alternative methods like solar energy, rain water harvesting, use of traditional knowledge for environmental conservation. Namrata opined that there is a need to prepare national communications, fortify planning and institutional framework as well as provision for training and research to assist effective policy measures to combat the effects of climate change.

She further stressed that there is need for capacity building of governments in strategic planning, disaster preparedness, vulnerability assessments and preparation of national communications by 'Exposure Dialogue Programme' (EDP). Sanjay Tomar held that knowledge about climate conditions is a vital factor that will enable farming communities to take early decisions to arrest decline in agricultural productivity. According to Sanjay, the use of ICTs is limited in this domain and most of the current information-sharing systems are market oriented. There is limited access to information on crop and weather information and a lack of integrated efforts to address this gap. Sanjay suggested that information centres should be established at the micro level in a participatory way and special attention should be given to develop local content and promote a network of organisations with similar interests. Frans Neuman brought out the stark realities of the effects of climate change on not just agriculture but also its overall impact on life and environment.
Recommendations

At the end of the special session on 'Climate Change Adaptation in Agriculture', the speakers converged on certain key points and policy options. These are:
Awareness generation is the first and most important step towards all adaptation and mitigation strategies to combat the effects of climate change

Identification of the early warning systems, information about adapted crop varieties and breeds

Reduction of carbon emissions, subsequent storage of carbon in ecosystems and adoption of Clean Development Mechanism

Initiation of pro-poor climate change projects

Formulation of a comprehensive policy on climate change adaptation and mitigation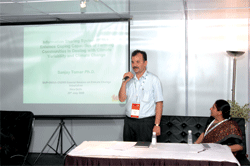 Neuman pointed out that an increase in the average temperature around the globe will lead to glacial melting and collapse which will eventually result in widespread floods and landslides. He emphasised that climate change will have a more pronounced impact on mountainous regions around the world where slight changes in temperature and weather patterns adversely affect the population which thrives on a narrow livelihood base. Srinivas Garudachar talked about Intel's Social Entrepreneurship Networks that calls for the setting up of low-cost broadband-enabled services, as the transport vehicle for providing information and knowledge to rural people through intermediaries. The focus of the network is on economic development. Some pilots are already running in India (NABARD) and Bangladesh (Grameen). Srinivas pointed out that the technology needed to create the entrepreneurship networks is present (Telecentres, GSM enabled communication etc.) but the business model is lacking.

In search of new dimensions

The 2nd eAgriculture India 2008 conference started on the 30th of July, 2008 with a session on 'Policy Dimension: Initiatives in e-Agriculture' in the presence of Madaswamy Moni, Deputy Director General, National Informatics Centre (NIC) and Dimple Verma, Director (IT), Department of Agriculture & Co-operation, Ministry of Agriculture, Government of India. The session intended to highlight the developments in e-Agriculture since the last year's conference and to provide the stakeholders with an outline of the policy initiatives being undertaken by the government in this domain. Moni started by informing the audience about the 11th Five Year Plan of the Government, its goals and the challenges that need to be overcome in order to achieve the goals.

He emphasised that 'Digital Inclusion' is the key element of rural prosperity. He elaborated on the initiatives of the NIC in bringing relevant information to the rural masses of India through their various projects like the DISNIC, AGRISNET, AGMARKET, SeedNet, HORTNET, FERTNET etc.

Dimple Verma, informed the participants about the Agricultural Informatics and Communications Network (AGRISNET) which is a central sector scheme of the Department of Agriculture and Co-operation, Ministry of Agriculture. It is being implemented by State Agriculture Departments in project mode. The objectives of AGRISNET are to : (1) improve and provide advisory and extension services to farming community using ICT tools, (2) develop farmer-centric applications such as input availability, soil health and mapping etc., (3) improve tracking of weather situation, (4) improve dissemination of information on government programmes and services, (5) improve information exchange within the state and between the state and centre, and; (6) empower farming communities/stakeholders.

By the end of the session, the speakers could identify some policy suggestions that are quintessential to the development of e-Agriculture in general and e-Farming initiatives in particular. These are:
Mapping of farmers and farmlands

Establishment Agriculture Polytechnics and Agricultural ITIs at the block level

Creation a single website for all information that a farmer needs

Strengthening agricultural marketing systems

Allocating 5% of agriculture budget to develop and strengthen ICT applications in agriculture

Initiation of a 24-hour agriculture channel on TV

Best Practices in e-Agriculture


The next session of the conference focussed on the Best Practices in e-Agriculture and had representatives from Indian Council of Agricultural Research (ICAR), Indian Agricultural Research Institute (IARI), National Informatics Centre (NIC) and Agricultural Universities deliberating on and showcasing some of the best practices in e-Agriculture from across the country. T P Trivedi, Project Director, Agricultural Research Information System, Indian Council of Agricultural Research chaired the session and talked about the role that ICAR plays in Indian agriculture and e-Agriculture. Trivedi stated that the use of ICTs can reduce the cost of information-sharing between stakeholders by 90-95%.

He talked about the interventions being made by ICAR to disseminate information through various means and showcased the ongoing transition of the ICAR's Directorate of Information and Publications of Agriculture (DIPA) from publishing to e-publishing.

The first Speaker of the session, A K Choubey, Senior Technical Director, National Informatics Centre, talked in greater detail about the various initiatives of NIC in the field of e-Agriculture and the best practices that have been adopted by NIC for information dissemination, usability, preservation and management of documents and content, network and information security, interoperability, standardisation of business processes and for localisation and internationalisation of content. Sapna A Narula, Assistant Professor at the College of Agribusiness Management, G B Pant University of Agriculture and Technology, deliberated upon the future of ICTs and Agribusiness in India. Sapna talked about the challenges that the sector is facing and suggested the implementation of the McKinsey 7S Framework to tackle the problems. According to her, strategies for revenue generation, alternative source of funds, involvement of public and private institutions, identification of needs, designing the right product-service mix, and awareness generation, along with other factors etc., can create a successful business model. I Muthuvel, Assistant Professor (Horticulture), Department of Extension Education, Tamil Nadu Agricultural University presented a paper on a model of Market Linked Small Farmers Corporate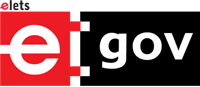 Recommended from all portals