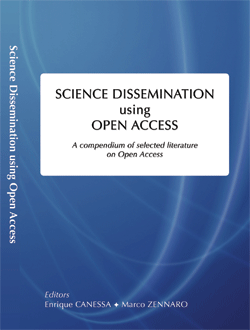 Science Dissemination using Open Access
Editors: E. Canessa and M. Zennaro
Publisher: ICTP – The Abdus Salam International Centre for Theoretical Physics
Pages: 195
ISBN: 92-95003-40-3
The ICTP Science Dissemination Unit (SDU), Italy has released a new free book entitled 'Science Dissemination using Open Access' a compendium of selected literature on Open Access, both on the technical and organisational levels, and was written in an effort to guide the scientific community on the requirements of Open Access, and the plethora of low-cost solutions available. The book also aims to encourage decision makers in academia and research centres to adopt institutional and regional open access journals and archives to make their own scientific results public and fully searchable on the Internet. Discussions on open publishing via Academic Webcasting were also included.

The book is jointly collaborated by ICTP-SDU (Italy) with European Organization for Nuclear Research (CERN) (Switzerland) and enabled by the support of INASP (United Kingdom). By releasing this work under a Creative Commons license, the editors hope to disseminate it as widely as possible, bringing the information into the hands of people who need it most. The book is available for free download, or seen on-line at the website (http://sdu.ictp.it/openaccess/book.html)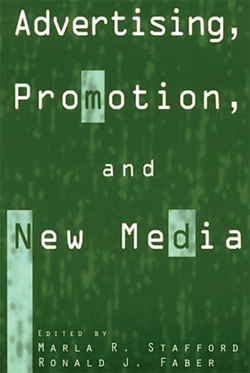 Advertising, Promotion and New Media
Edited by: Marla R.Stafford and Ronald J.Faber
Publisher: M.E. Sharpe
Pages: 380
ISBN: 0765613158
New Media strengthened by Information and Communication technologies have invaded into lives much more faster than ever before. The book gives a comprehensive overview of the newest media technologies that has helped marketing communication to multiply faster to upkeep an effective advertising programme providing valuable insights for experts and students in the fields of advertising and mass communications. It describes the relevance of cutting-edge techniques including 3-D advertising, mobile advertising, advergames, interactivity, and netvertising images, as well as more familiar Internet advertising formats such as banner ads and pop-ups in today's competitive world. It also discusses important topics such as how to select online affiliates, and how to assess the effectiveness of new media advertising and compare it with traditional formats.

The book is divided into five parts and consists of 16 chapters. The five parts of the book are: 'Defining, Understanding and Measuring New Media Advertising', 'Important elements of Internet Advertising', 'Banners, Pop- Ups and Online Sponsorship, 'Other New Media Ad Forms and 'Conclusion'.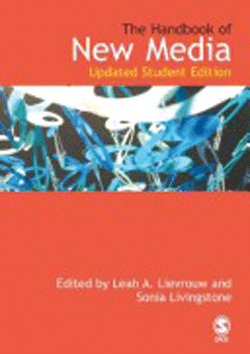 The Handbook of New Media
Edited by: Leah A. Lievrouw, Sonia Livingstone
Publisher: Sage
Pages: 475
ISBN:1412918731
The Handbook, the first of its kind, is meant mainly for students and new media enthusiasts. The book provides guidelines on how to apply Information and Communication Technologies (ICTs) and other interactive tools in the field of new media. The book showcases an essay on children and new media written by David Buckingham. The handbook holds a great degree of reference value and embodies diverse perspectives on new media platforms and technologies. The book also sets out boundaries of new media research and scholarship and provides a definitive statement of the current state-of-the-art of the field.

The Handbook is divided into three parts and includes various essays and articles on new media tools and technologies and their roles in expediting the process of development. The first part focuses on the role of new media in the context of social and community culture. The second part is on new media technological systems and designs and the third part is on new media, institutions and governance. All the chapters in the three sections, written by an internationally renowned scholars, provide a review of the most significant social research findings and insights. The handbook provides updated chapters to combine classic studies and background material with latest developments in the field since the first edition appeared in 2002. It also offers a fresh introduction by the editors outlining the main themes in new media studies.