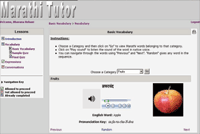 With the advent of Internet and computer technology there is more and more demand for computer based tutoring systems for language learning. Language tutoring systems should not only use technology to deliver content but also build in relevant pedagogical component, for effective instruction. This article discusses the design of a constructive learning environment for teaching spoken Marathi
There are various approaches available for language learning. The traditional approaches for language learning include resources such as books, magazines, etc and private courses where a particular language is taught to aspirants by a native expert. Such courses normally start by teaching script of the language and pronunciations of syllables.

The course then proceeds to grammar, introduction of pre-defined subset of vocabulary, common expressions and simple everyday conversations to conversations in specific domains.
The traditional approach, however, does not adequately address demands such as anytime and on-demand learning. Web-based educational systems, which to a large extent overcome the challenges posed by traditional classroom learning and textbook learning, are becoming increasingly popular. These systems exploit various advantages of the Internet technologies such as anytime anywhere access, sharing of learning material and online collaboration. One of the major charms of e-Learning is to provide any-pace learning. This necessitates the system to adapt the pace