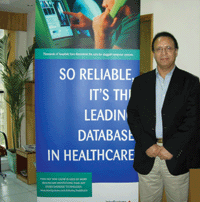 Founded in 1978, InterSystems Corporation is a US$ 220,000,000 privately-held software company with offices in 22 countries. They provide a premier platform for connected healthcare, and their innovative products are widely used in other industries that demand the highest software performance and reliability. Leading software vendors also leverage the high performance and reliability of InterSystems' advanced technology in their own products. Vir Chopra, Chairman, InterSystems India, shares with eHEALTH the pioneering role played by the company in transforming healthcare industry across the globe.
That said, I believe that large nations like India and China having a national focus on improving the quality of healthcare, coupled with increased levels of education and an IT revolution could potentially learn from the experiences of countries around the globe that have embarked on the same road before them, and leapfrog ahead.
Q. InterSystems is known for its world class technology products, namely – Cache, Ensemble and Healthshare. Could you give a brief overview of the strengths and application areas of these technologies and how they are being used for developing IT solutions, particularly for the healthcare industry?
A. For companies that require high-performance and reliable database system, we offer InterSystems Cach