Singapore to turn high schools into IT labs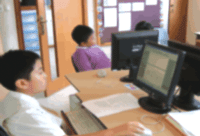 Singapore government is bent on turning the country's public high schools into training laboratories to address the growing demand for skilled workers in the communications technology industry.
Under the Commission on Information and Communications Technology's 'Internet for Public High Schools' Project or iSchool Project', the government will allot P1 million this year for every public high school selected to pilot the project. The project is aimed to bridge the digital divide and also make the students in the country globally competitive.
It would also impart training to teachers to upgrade their digital knowledge.
Under the project, the CICT aims to cover at least 2,000 of the country's more than 5,000 public high schools in the next few years.
NIIT in for expansion in Malaysia

NIIT, a global information technology service corporation, plans to expand its education and training centres in Malaysia to 50 within the next three years.
Chief Executive Officer Vijay Kumar Thadani said NIIT currently has centres in Kuala Lumpur, Klang, Prai, Seremban, Melaka, Johor Baharu, Teluk Intan, Penang, Kuching and Kota Kinabalu. The target is to increase this to 50 over the next three years with support from the government.
The India-based corporation made its entry into Malaysia in 1997 and was among the first 20 global companies to be conferred the MSC Malaysia status.
NIIT is also looking at collaborating with educational institutions that offer degree programmes. Currently, NIIT has a partnership with Universiti Tun Abdul Razak (Unitar) for the development of over 100 hours of instructional materials for its bachelor's degree programme. It has also licensed its Vista multimedia engine for developing future learning content to Unitar.
Mr Thadani highlighted the need for skilled manpower in the global information and communications technology (ICT) industry and the important role that countries like Malaysia can play in meeting this need. By 2020, there will be an estimated shortage of nearly 56 million IT professionals in the developed countries and countries like Malaysia, Indonesia, Vietnam and India can meet this need by focusing on developing relevant talent.
IT learning labs in Bangladesh schools

Thousands of children in 10 cities of Bangladesh now have access to innovative technology solutions as part of 50×15 Initiative Learning Labs Programme carried out by NComputing, AMD and BRAC.
Under the initiative desktop computers have been deployed in 10 schools around the country. Similar to previous 50