e-Village programme underway in five provinces of Sri Lanka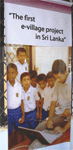 The Secondary Education Modernisation Project (SEMP) of the Sri Lankan Ministry of Education along with the President's Office jointly implemented the e-Village programme in five provinces of the country.

The programme is aimed to empower rural communities by improving IT literacy rate, information sharing and creating employment opportunities. The first phase of the project was implemented in the Central, Sabaragamuwa, Western, Uva and Southern Province. In the second stage, community computer centres are scheduled to be constructed in addition to schools computer learning centres. The President has advised the Ministry of Education to initiate the e-Village concept in selected rural communities. So far, the SEMP of the Ministry of Education has established five projects.
e-Government

Lithuanian Tax Inspectorate further improves on-line service

The Lithuanian Tax Inspectorate is coming up with a new improved single form for tax submissions and an on-line calculator of tax-free income.

The new improved form will be pre-filled using data from the State Tax Inspectorate (STI) and expenses reported to the STI by the third parties like banks, insurance companies, computer retailers, etc. Now the tax department is trying to improve the on-line services and introduce the declaration process, and to encourage taxpayers to exchange the 'hard copy' declarations for on-line declarations. In 2006, 46 per cent of income declarations were submitted on-line. This was increased to 75 per cent in 2007.

Education

NCC, Nigeria to empower 581 schools

The telecommunications regulator of Nigeria, Nigerian Communications Commission (NCC) will empower 581 schools and colleges with ICT equipments nationwide. This number consists of 221 to be achieved under the NCC's Digital Awareness Programme (DAP) and the other 360 to be made up from the NCC secretariat under the aegis of the Universal Service Provision Fund (USPF).

The first phase of the DAP project was launched on 2004 with 12 institutions spread across the six geopolitical zones. Now, the project will cover 80 schools and each school would be equipped with at least 20 Personal Computers (PCs), furniture and Internet facilities. Additionally, the programme will provide basic training for the teachers and students to enable them effectively use the provided ICT tools.

Health
Sweden gets national patient records system

The Swedish healthcare advisory organisation, SVR AB is planning to implement a National Patient Overview (NPO) to improve patient security and quality of care. By this, Swedish residents will be able to access their own medical records.

The NPO will make real time patient information available nationally to county councils, local authorities and private healthcare providers in Sweden. Under the agreement, Sweden based IT company TietoEnator and Finland will provide the NPO system. The deal is worth