IITs and IIMs to adopt distance education
The Government allowed the top engineering and MBA institutes to offer courses to students through distance and mixed mode, a move that could prove to be a major breakthrough for high quality distance learning.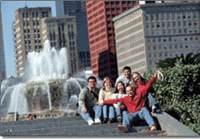 The University Grant Commission (UGC), All India Council for Technical Education (AICTE) and Distance Education Council (DEC) are three regulatory and approval agencies that will jointly monitor the process. The joint panel also aims to minimize the usual long drawn out bureaucratic process. While the AICTE will be in charge of the technical institutes and courses, the UGC will handle other universities and the DEC will take care of overall regulation.
The panel will also design curriculum and learning methods along with certain standards to promote uniformity in open and mixed (distance plus institutional) education.

Delhi budget for education increases
The Delhi budget announced an additional INR 238 crore ( INR 809 to 1,405 crore) for education, a development indicative of the Government's intention to improve the educational infrastructure of the national capital of India.
The Delhi State Industrial and Infrastructure Development Corporation (DSIIDC) is being entrusted with an upgradation project at 198 schools in the next two years backed by a budget of INR 250 crore.
The budget also increased the uniform subsidy from INR 300 to INR 500 per annum thus allowing children to buy a winter jersey. This will also be extended to students admitted under the freeship quota along with the payment for books. Free braiile books will also be provided for both government and private schools.
Among other measures outlined, the government also plans to establish a Delhi Knowledge Development Foundation to develop and enhance distance learning in technical education.
India's ICT spend still behind
The allocation for education in Budget 2008-2009, amounts to 0.8% of the Gross Domestic Product (GDP) (including the contribution by the states, this goes up to 3.57% of GDP) and by the end of the eleventh five-year Plan, it is expected to increase to 6% of the GDP (this would include contribution by the states).
Meanwhile, as far as enrolment in higher education is concerned, the gross enrolment ratio (GER) in higher education is expected to increase to 15% by the end of the XIth Plan, from the current GER of 10%, according to a senior government official. The government will also establish 16 central varsities in the hitherto uncovered states. Despite this, the overall allocation for the higher education sector is only 0.37% of GDP according to Ernst & Young-EDGE 2008 report on 'Globalising higher education in India,' whereas Brazil spends 0.91% of its GDP, Russia