India has an excellent opportunity to initiate its efforts in re-formulating an education policy in such a way that the following can be the key areas of focus:
Creativity, cultural values, national need, critical thinking, Entrepreneurial Thinking and subject orientation formulate the content for students across school education.

Education system is in continuous alignment to the economic-GDP 2020 vision of 44% of national GDP from agricultural income, 21% of GDP from manufacturing sector and 35% of GDP from the services sector.

Develop knowledge resource not just to meet the national need but also the global need on knowledge human resources.
It is important that the existing economic and digital divide needs to be bridged. Implementation and integration of ICT into the education system should address the following points:
Regardless of gender and financial status of students, education for every student should be the motto of ICT implementation.

Provide cost-efficient delivery of education to build a strong equitable and economically strong knowledge society.

Develop partnerships with government and private agencies for delivery of ICT education.

Create inter-connected clusters of villages with a central hub. Each central hub connected to an urban city with basic health-care facility provided.

Pilot test the hub-cluster model with three villages near an urban city.
ICT implementation has given an excellent opportunity for the Education Policy Implementation specialists to re-visit what we want our future leaders of India to be like. In this way, we get an idea of what needs to be taught, who is our target audience across India, and how to reach all corners of India.
The country's growth is measured by its economic state, literacy rate and health-care facilities. By 2020, the employment pattern should aim at 44% in agriculture, 21% in manufacturing and 35% in service sectors. Of course, manpower reduction in agriculture has to be met with increased technological input.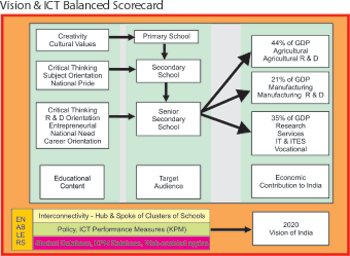 Universities and educational systems should create two cadres of personnel: (1) a global cadre of skilled youth with specific knowledge of specific skills and (2) another global cadre of youth with higher education. These two cadres will not only power the manufacturing and service sectors of India but also fulfill the human resource requirements of various countries. The need therefore can best be defined along the following lines:
Throughput of higher education system should increase from existing 11% to 20% by 2015, 30% by 2020 and 50% by 2040.

Hub-and-spoke model of inter-connected clusters of villages with each hub in these clusters connected to an urban city.

Agriculture-based education to reach the rural schools and colleges, so that the urban movement of rural people can be reduced and technology-supported agriculture can grow and flourish.

Awareness and reach to health-care facilities through the network of clusters. Meaning, rural areas get Internet-based basic health-care help.
Vision
Working backwards from the national 2020 vision we can derive a vision for ICT in schools. The driving factors of the vision are:
Ensure that when students leave school, they should be confident, creative and productive users of new technologies and more importantly understand the impact of those technologies on society.

Prepare students for adult life when nearing the end of their compulsory schooling.

Enable equitable and cost-efficient delivery of education to create a strong equitable, imaginative and economically strong knowledge society that which is globally integrated.

Implement technology education