Award Category: Excellence in Government Process Re-Engineering

Gold Award Winner
MCA21, Ministry of Corporate Affairs, Government of India
The Ministry of Company Affairs (MCA), Ministry of Finance, Government of India has undertaken a major initiative to modernise and computerise its operations. It envisions to provide anytime and anywhere services to businesses. The basic functions of the MCA are registration of companies, receipt of the statutory returns filed by the companies and issue of copies of the records needed by them. The MCA21 project seeks to provide online services in the above areas with certainty and speed.



It is a pioneering programme, being the first Mission Mode e-Governance project undertaken in the country. This programme builds on the Government of India's vision to introduce a Service Oriented Approach in the design and delivery of government services, establish a healthy business eco-system and make the country globally competitive.
Silver Award Winner
VAT Information System, Finance Department, Government of Gujarat

Award Category: Exemplary Horizontal transfer of ICT-based Best Practices

Gold Award Winner
Integrated Workflow System for Paperless Admissions, Government of Haryana/ National Informatics Centre
The objective of the project is create paperless registration, submission of application, and downloading of admit cards for entrance examinations and online counseling for centralised seat allotment (process re-engineering to make the system citizen centric and easily transferable) using ICT Driven, Low cost Internet based system with 100% transparency, and zero human interference in processing of applications, results, seat allotment and deliverables and hence breaking barriers of boundary, time and psychology for effective use of ICT by rural students and parents at par with their counter parts in urban areas for admissions in All India Council for Technical Education (AICTE) approved courses run by the institutions across the state.
Silver Award Winner
ELECON, Chief Electoral Officer, Bihar/NIC
The Election Confidential-ELECON software developed and implemented by NIC Bihar has been in use during the elections since 1991 and gone through a number of changes, incorporating the latest guidelines of the Election Commission of India from time to time. It has been designed as a software tool, takes less time to implement and takes care of almost all election related activities at various stages.
Bronze Award Winner
VATsoft-VAT processing System, Commercial Taxes Department, Government of Karnataka/NIC

Award Category: Outstanding Performance in Citizen-Centric Service Delivery

Gold Award Winner I
Internet Ticketing Project, Indian Railway Catering and Tourism Corporation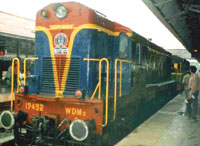 The Indian Railway Catering and Tourism Corporation Limited (IRCTC) is a public sector company set up and fully owned by the Ministry of Railways. The Internet Rail Ticketing programme for India is being handled by the Indian Railway Catering and Tourism Corporation (IRCTC). On August 3, 2002 the facility for Internet ticketing was launched for public.

IRCTC delivers tickets in 212 cities of India. IRCTC also provides the facility to book e-Ticket i.e., just book your ticket and take print out and travel with your photo ID. Through www.irctc.co.in the tickets for rail journeys can be booked on the Internet by any user.

Silver Award Winners
Nemmadi, e-Governance Secretariate, Government of Karnataka
'Nemmadi telecenter' project was initiated by the Karnataka government in September 2006 to bridge the digital divide in rural Karnataka. The Nemmadi project has been initiated in the State of Karnataka to bring administration closer to the common man:
To establish friendly, affordable citizen interface with the Government

To have single window information services

To provide cost effective and at the same time improving the quality of service

To contribute to saving in time and money for citizens, and
To prevent citizens from falling prey to middlemen.
e-Filing of Income Tax Return, Directorate of Income Tax (System), Government of India



The Government of India chalked out a National e-Governance Action Plan for the implementation of various e-Governance initiatives for tax payers, 24 hours a day, so that a tax payer can fulfill his daily tax obligation without wasting time and without visiting Income Tax offices. The Income Tax Department launched the electronic furnishing of return of income scheme, 2004. under this scheme eligible assesses can file their returns of income electronically through persons authorised to act as e-Return intermediaries.

Starting from July 2005, taxpayers assessed at any one of the 60 stations on the Tax information Network have been able to avail the facility of e-Filing their returns either through approved e-Return intermediaries or directly (subject to fulfilling eligibility criteria for individual taxpayers) under 'digital signatures'.
Bronze Award Winner
City Civic Centre, Surat Municipal Corporation, Gujarat

Award Category: Innovative Usage of Technology in e-Governance Gold Award Winner

Tele-Bhugtan, Collectorate, Jabalpur, Madhya Pradesh
"The challenge was to provide solution which is providing hassle free, easy to use, and round the clock services that too at the finger tips of consumers. Besides being low on initial cost the technology has to be proven, easy to maintain and omnipresent. This is the background with which we worked to evolve the concept of putting IVRS (Interactive Voice Response System) to guide the customer to follow certain steps to complete the transaction. Bills can be paid by 'Direct Debit' of customers account in a convenient manner that long queues and delays in fund transfer can almost be eliminated. This would obviate the need for issuing and handling paper instruments like cheques etc. and thereby facilitating improved citizen services. This system allows payments of utility bills by making a call to the IVRS Server using a telephone or a cell phone. As the IVRS would be operational 24×7 the bills can be paid 24 hours from any location."



Sanjay Dubey
District Magistrate, Jabalpur,
Madhya Pradesh

Silver Award Winner
Tsunami Relief and Rehabilitation Administration, Andaman and Nicobar Administration
Bronze Icon Award Winner
Web Based Project Management System, Karnataka State Police Housing Corporation

Award Category: Exemplary Usage if ICT by PSUs

Gold Award Winner
Electronic Procurement System, SAIL, Rourkela Steel Plant, Orissa
Rourkela Steel Plant (SAIL-RSP) is for implementation of Electronic Procurement System (EPS). It seeks to transform and re-engineer the entire gamut of procurement activities and empower buyer and sellers by leveraging the benefits of Information and Communication Technology.



EPS is an on-line Internet enabled system of issue of tenders enquiries, submitting quotations, evaluating and viewing comparative bid statements, purchase orders, receipt details and payment information in order to move towards paperless transaction and for increased level of transparency.

The key value proposition of the project is to build an electronic interface with our suppliers by ensuring all documents receipt by them, facilitate them to submit error-free electronic quotations, sharing transaction information and releasing them from their locational limits to SAIL-RSP. In addition, EPS ensures removal of errors on account of duplication of data entry, provides audit trails and significantly reduces the ordering cycle lead-time thereby increasing the efficiency of the buying personnel.

It has addressed the following key issues related to public buying:
Transparency

Wider Participation

Reducing Human Interface for Enhanced Ethical Public Buying

Instant Un-restricted Information Flow

Reduction in overall Cost Incurred in Procurement Activities
Silver Award Winner
Reverse e-Auction for Transportation Contract, Visakhapatnam Steel Plant
Bronze Award Winners
In House Development of Web Based Inspection Call Management System, Power Grid Corporation of India Ltd.

Business Continuity for SAP, Indian Oil Corporation
Special Mention

Application for education and Communication of Children Affected with Crebral Palsy-Webel Mediatronics Limited, West Bengal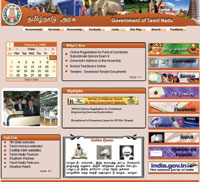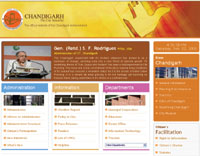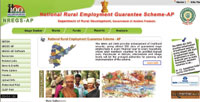 Award Category: Best Government Website

Gold Icon Award Winner
Government of Tamil Nadu www.tn.gov.in

Silver Award Winner
Chandigarh Administration www.chandigarh.gov.in

Bronze Award Winner
Department of Rural Development, Government of Andhra Pradesh, www.nregpa.ap.gov.in

Award Category: Special Sectoral Award-Focus Sector: Agriculture

Gold Icon Award Winner
GrapeNet, Agriculture and Food Product Export Development Authority, Ministry of Commerce and Industry, Government of India
The web-based GrapeNet software provides traceability regarding the grapes exported from India to European Union (EU). The software was developed by the Agricultural and Processed Food Products Export Development Authority, an apex government agency and was launched in June 2007. The software helps in raising the confidence of importers by enabling monitoring of pesticide residue and by achieving product standardisation and thus boost grape exports to EU.



The software works on the regulations of tracing back to the origin of the produce in the reverse order from shelf to farm at the click of a mouse at one's computer. By clicking the phytosanitary number or Agmark number one can reach directly to the certificate issuing authorities thereafter, one can reach at the inspection reports to laboratory analysis, certificate of residue analysis and the pack house details, which are available in detail instantly.

The software is designed to reach at the root of any grape export transaction.

Silver Award Winner
Soochana-Se-Samadan, Indian Society of Agri-Business Professional, Delhi

Mustard Procurement Management System, District Administration, Rohtak, Haryana
Bronze Award Winner
Online Paddy Procurement, Department of Food, Chhattisagarh (http://cg.nic.in/dcppdsmis)
"The project involves computerisation of 1532 purchase centers, 50 MARKFED storage centers, 70 CGSCSC CMR receiving centers, 35 FCI receiving centers all the 16 food controllers' office at district collectorate, all the District Marketing Offices of MarkFed, all the District Managers Offices of CGSCSC and head quarters of MARKFED and CGSCSC. Complete system design, development has been done by National Informatics Centre (NIC), Chhattisgarh Unit with the help of hired staff."

Alok Shukla,
Collector, Raipur
Chattisgarh