Telecom sector ringing loud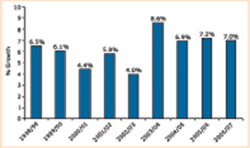 In the Indian telecommunications sector, the year 2007 ill be remembered for its spectrum conflicts among the operators, the tariff policies, and regulations tug-of-wars in the Indian Telecommunication Ministry. The Telecom Regulatory Authority of India (TRAI) has stated that India's wireless market is fastest growing in the world. About 8.31 million mobile users were added during November, 2007. The Indian government expects that there will be more than half a billion cellphone users by the year 2010. Among them about 70 percent population is based in rural areas, that will be covered by wireless network within 3 years. Meanwhile, the tele-density is raised from 22.52 percent in October, 2007 to 23.21 percent in November, 2007. While the fixed telephone subscribers were decreased from 39.41 million in October, 2007 to 9.31 million in November, 2007. During the same period broadband subscribers reached 2.87 million as against 2.69 million in October, 2007. However, the Department of Telecommunication (DoT) has received about 400 applications from various companies for telecom license approval in different circles across India during October end, 2007.




Nagpur Municipal Corp plans to have radio station

The Nagpur Municipal Corporation (NMC) is planning to launch 'Community Radio Station' or FM channel to spread awareness about education amongst school children and other civic activities among the citizens. The total project will require INR 10 to 15 lakh for setting up well-equipped radio station and installation of broadcasting equipment. The civic body is planning to tie-up with private educational institutes for preparing English language and mathematics skill programmes for the students of NMC schools. Pune and Thane municipal corporations have already started such services in their respective cities for spreading educational awareness; and on similar lines, NMC will implement the project.





Capacity building scheme approved under NeGP

The Government of India has approved the capacity building scheme for taking National e-Governance Plan (NeGP) forward across the country in all the states and UTs. The scheme will mainly provide technical and professional support to state level policy and decision-making bodies, and help to develop specialised skills for e-Governance. The Department of Information Technology (DIT) will implement the scheme for which the government has allocated INR 3.13 bn for three years.

The scheme will establish institutional framework for state-level strategic decision-making, including setting-up of State e-Governance Mission Team (SeMT). It will impart specialised training, orientation programme for SeMTs and decision-makers, in knowledge sharing and bringing in international best practices, and empower strength of training institutes in various states and Union Territories of India.


Telemedicine project launched in Mohali

The Punjab Health Minister had recently inaugurated the telemedicine project in Mohali to provide a digital link between Mohali Civil Hospital, PGI Chandigarh, Punjab Health Systems Corporation (PHSC) and C-DAC. The tele-medicine project implies the usage of modern tele-linking technology to provide medical facilities and expert medical opinions of specialists in remote locations. In the first phase, the data related with diagnostic test reports, X-rays and other information will be transferred under the tele-medicine project from the civil hospital to experts sitting at distant places. Video conferencing with experts will also be possible under the project. Under Phase I, three government hospitals