India targets 80 % literacy by 2012

The central government is targeting 80 percent literacy by 2012, against the present 65.38 %, with a whopping INR850 billion ($21 billion), five times the budgeted allocation from the previous five-year plan budget, earmarked for education during the 11th Five Year Plan. The bulk of it is for Sarva Shiksha Abhiyan, the ministry's flagship programme.
According to A.K. Rath, Secretary, Secondary Education and Literacy in the human resources development ministry, India will witness a complete literacy by 2015. He claimed that the dropout rates had also come down and that the government was committed to enhancing the reach of the SSA by emphasizing on quality, equity in the ongoing 11th Plan. It is also looking at improving basic learning for students, computers, infrastructure in schools and improve teaching standards.
Spare the rod, keep child in school

Corporal punishment severely affects the human dignity of the child, thereby reducing his/her self-esteem and self-confidence. According to the latest Unicef Global Statistical Review, of every 10 children in primary school in India, four drop out by Class V. India, a signatory to the UN's Education for All by 2015 goal, shows 'insufficient progress.'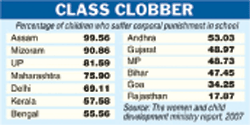 In 1986 the National Policy on Education explicitly mentioned that corporal punishment should be firmly excluded from the education system. Yet, 20 years later, a countrywide study by the Centre in 2006 had revealed that two out of every three students in India were a victim of physical abuse at school. In between, the Supreme Court, in 2000, banned corporal punishment. Delhi High Court upheld the ban the same year while Calcutta High Court banned caning of students in 2004. But despite the apex court's decision, only Tamil Nadu and Andhra Pradesh amended their education laws in 2003 and 2002, respectively, to implement the ban. The Central Board of Secondary Education (CBSE) had in the past issued a circular to all affiliated schools, asking them not to resort to physical punishment. Affiliation bylaws of the CBSE were recently amended to empower the school management to punish teachers guilty of physical abuse of students. The ministry has now asked state education boards to emulate the CBSE reforms.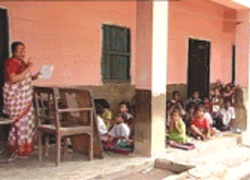 Rural South India slipping in maths education: survey

Contrary to the claims of the government, the Annual Status of Education Report (ASER) for rural India by Pratham, an NGO, is not on the expected lines. According to ASER (2007) findings, in the rural areas of Tamil Nadu, only 24.8% children in the age group 6 to 10 could listen to a specific subtraction problem and answer. Only 7.8 % children in the same age group could answer specific division problem.
Among the children in the age group 11 to 14, 40% could answer specific subtraction problem and 37% could answer division problem. Similarly, in the rural areas of Karnataka, ASER 2007 reported that only 21.3% children in the age group 6 to 10 could answer specific subtraction problem and 5.4 % could answer division. 34.3% children in the age group 11 to 14 could answer specific subtraction problem and 37% could answer specific division problem.
In the rural areas of Andhra Pradesh, ASER 2007 findings reported that 25% children in the age group 6 to 10 could answer specific subtraction problem and 18 percent children could answer division problem. Among the children in the age group 11 to 14, 27% could answer specific subtraction problem and 54% could answer division problem.

India, France ink 21 agreements in education

France is now aggressively courting Indian students and linking up with educational institutes here with the establishment of an Indo-French educational consortium to initiate projects of joint research and enhanced cooperation at the Masters degree level and signing of 21 inter-university agreements in the field of student and faculty exchanges at masters and undergraduate levels.
The Indian Institute of Technology (IIT), Delhi inked a deal with Groupement des Ecoles des Mines for cooperation in the field of advanced research at the doctorate level in applied mathematics and physics. Similarly, one of France's best known institutes in political studies, Sciences-Po Paris signed two separate agreements with University of Madras and Delhi's St. Stephen's college for exchanges in social sciences and economics.

Mobile TV in India

Mobile TV, the advanced technology is soon to debut in India and is a natural evolution in technological innovation as it will enable consumers and users to watch television on mobiles or cellphones. It also assures to open improved opportunities for governments to provide enhanced services such as education, healthcare, safety and security to all citizens. In India it is expected to launch this year.
The country is expected to announce the 3G policy, a vital requirement for introducing this innovative technology. GPRS edge or 3G, based on Java application, is the fundamental or basic requirement for launching mobile TV. Through this consumers can access all the channels provided by the subscribers.
Ericsson and BPL mobile manufacturers are keen on establishing the Mobile TV platform for telecom patrons in India. BPL is signing a partnership with China