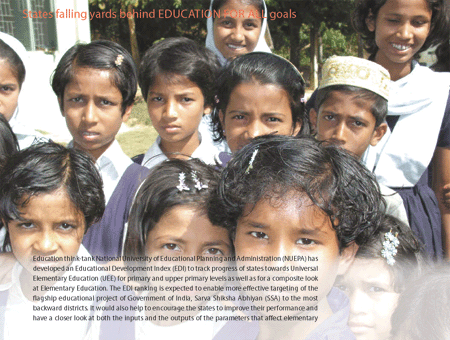 According to 'Flash Statistics: Elementary Education in India and Progress Towards Universal Elementary Education (2006-07)', released by the Ministry of Human Resource Development (HRD) recently, Kerala continues to be a top achiever in composite rankings of primary and upper primary education, followed by Puducherry, Delhi and Tamil Nadu as toppers in providing elementary education. Bihar remains the state with the worst elementary education report card, while Jharkhand is second-last.
The report was based on a survey of 1.20 million schools spread over 609 districts across 35 states and union territories of India, and conducted by the National University of Educational Planning and Administration (NUEPA) for the HRD ministry. The survey was based on the District Information System for Education (DISE) developed by NUEPA a few years ago.

"The efficiency of primary education system is directly related to the magnitude of the problem of illiteracy. So far as the school related information is concerned, the analysis should start from the indicators which give information regarding access. Information on access, should be followed by collection of information on infrastructural facilities available in a school/block/district. Other important information relate to schools need to be collected is enrolment and attendance pattern; and pattern of wastage and stagnation at different levels of schooling. While analysing efficiency of education system, different indicators of efficiency be computed separately for male/female, rural/urban, SC/ST/General population etc. so that they can help in identifying educationally weaker areas within a block/district." Arun C Mehta, Professor Educational Management Information System, National University of Educational Planning and Administration (N U E P A)

The report tracks the progress of states towards universal elementary education at the primary and upper primary levels as well as the composite elementary level. Designed as an Educational Development Index (EDI) on which rankings are given based on 23 parameters.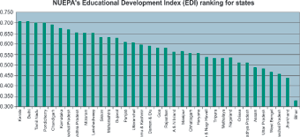 The EDI has been developed keeping in mind four broad parameters