New Delhi, 27 June 2007: In a country with a population of over one billion, access to Information Technology is available to only a 100 million people. Microsoft India, with the overriding objective to enable IT access for the vast majority of Indians today announced the roll out of Unlimited Potential in the country. The effort – the announcement of which comes close on the heels of the global launch of Microsoft Unlimited Potential by Bill Gates in Beijing, China – will focus to create innovative ways for deploying technology to transform education, foster local innovation, and enable jobs and opportunities to sustain a continuous cycle of social and economic growth for everyone. Unlimited Potential will draw on the substantial resources and business expertise of Microsoft and its partners to create a model that enables new market opportunities as one billion consumers, in India and elsewhere, join the global economy in the next decade.

The news was unveiled by Orlando Ayala, Senior Vice President of the Emerging Segments Market Development Group, Microsoft, and Ravi Venkatesan, Chairman Microsoft India, in the presence of several partners. Speaking at the launch, Ayala said, "Our founding vision of 'a computer on every desk and in every home' has reached the first billion people, and with Unlimited Potential, we are determined to reach the next billion people by 2015. India is one of the most exciting and important markets in the world. In addition to being a growth sector of the Indian economy, Information Technology (IT) is also a key enabler of social development. In India especially, the progress on many fronts is already well underway and continues to mature."

Elaborating on Unlimited Potential, Ravi Venkatesan, Chairman, Microsoft India, said "The task that we have today is to make technology pervasive and useful in the everyday lives of more and more people. The growth of IT penetration in India, currently, might be rapid, but it is not rapid enough. Affordability is critical and goes far beyond low-cost hardware. Affordable solutions must account for individual needs and means, and use creative ways to deliver technology, through different devices, access models or financing options. It is imperative for technology to be relevant and accessible. Only when we meet these criteria will the adoption of technology grow exponentially. And this is exactly what we seek to deliver through Microsoft Unlimited Potential".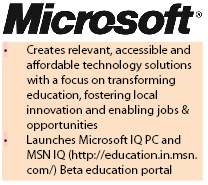 Outlining the focus areas in India, Ravi Venkatesan added, "Education at every level remains crucial for India's continued growth. The investments made in it over the years have propelled India's growth in the knowledge economy; and it will be critical to continue the focus on education. And, likewise, for any sustainable progress on India's socio economic index, a focus on jobs and opportunities will be essential.

Last but not least, if India has to continue to exert an even greater influence in the emerging global knowledge economy, it will have to foster the creation and ownership of that knowledge. Innovation will not just be a prime way to address the unique needs of the India market but also to give India that edge."

Transforming education
Over the past several years Microsoft has been using a combination of quality content, partnerships, training, and broad access to transform education In India. Under its programme, Project Shiksha (the global Partners in Learning program) Microsoft has worked with state governments, and other key stakeholders to offer a spectrum of education resources including tools, programmes, and practices. To increase IT literacy amongst teachers and students at the government school level, Microsoft has to date, trained over 100,000 teachers impacting over 5 million students. In higher education, its efforts have included providing professional development training and tools and resources to over 1000 IT and engineering faculty members across 51 colleges in India.

Going forward, Microsoft will both scale up the existing initiatives and broaden the opportunity beyond institutions to enable access for individuals under a 'Connected Learning framework' called IQ.

IQ is essentially a combination of an online and offline content tied into all aspects of a student's learning process and growth. A key offering announced today included a pilot programme for the IQ PC in partnership with AMD. The announcement is the latest milestone in the ongoing relationship between Microsoft and AMD to bring solutions to India and other markets around the world.

Aimed at school going children from Kindergarten to class 12, the PC will be built on AMD hardware in partnership with Zenith as the designated OEM. Additionally, Microsoft and AMD are also working towards collaborating with WIPRO to deliver IQ-PC on Wipro's ultra-value.

The IQ PC will include Windows, Office/Works, Encarta, Student 2007 and specialised education solutions from a host of key partners. The content focuses on the key concerns of families, be it the learning of English as a language, tutorials for competitive examinations, or ensuring a seamless transition from class work to homework.

Microsoft also announced the launch of the MSN IQ Beta Education Channel which will be a repository of educational as well as edutainment content. Students access curriculum for classes Kindergarten to 12th, avail of online tutoring; competitive exam coaching; online entertainment; referencing and online counseling. Leading industry personalities will also provide some specialised editorial content for the channel.

Initially, Microsoft will launch the IQ offerings