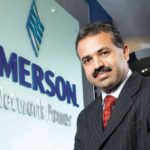 Sandeep Nair, Managing Director, Emerson Network Power India Pvt. Ltd.
Please tell us about Emerson Network and its growth and operations in India.
Emerson Network Power (India) Private Ltd. is a wholly owned subsidiary of Emerson Electric USA, a $22.6 billion Fortune 500 Company. Set up in September 1993, the Indian subsidiary has seen a consistent growth rate of more than 30% p.a., over the last 13 years. Today, the company is acknowledged as the global leader in enabling Business Critical Continuity by providing best-in-class integrated network uptime solutions. It offers AC Power (UPS), Connectivity Solution, DC Power for Telecom, Embedded power, Inbound Power, Integrated Cabinet Solutions, Outside Plant, Precision Cooling all supported by world-class Site Monitoring and Services.
After the company transitioned itself to Emerson Network Power India in 2001, the company has made a conscious effort to align itself with its global parent. This meant bringing together world-renowned brands under the Emerson Network Power India aegis. In effect, Emerson has moved from being a UPS and Precision AC manufacturer to a "Global Leader in enabling Business Critical Continuity Solutions."
Emerson's solutions cater to an array of large enterprises spanning across Datacenters, Telecom Shelters, BPOs, Industrial Process Control Rooms, Food Processing Industries, Broadcast Facilities, Building Services Control Rooms, Surveillance and Monitoring Centers,  Medical Equipment Installations, Government, Banks and Financial Institutions and Retail  Malls. Through its extensive network of Business Partners and Channel Partners, Emerson has  successfully penetrated the B & C class cities in India to cater to the fast-growing SME segment.
In August 2005, Emerson Network Power entered the SOHO UPS segment, with the launch of  two UPS models, the 600VA and the 1000VA under the ITON range. With the launch of these SOHO products, Emerson has become the only vendor in the Indian market to offer complete spectrum of air and power solutions across large Enterprises, SME and SOHO.
An ISO 9001 certifi ed company; Emerson Network Power (India) Private Ltd., crossed a  major milestone in its quality journey when it was accorded Level II recognition by MAIT (Manufacturers Association for Information Technology) in 1998. This is the highest ever  recognition accorded by MAIT in India for a company and the fi rst in the manufacturing sector. In 1999, the Confederation of Indian Industries (CII) recognised the company for its  strong commitment to Quality through a Certifi cate under the CII-Exim Business Excellence Award.
The company also has a long list of awards to its credit, notable ones being:
MAIT Excellence in Exports award in the Hardware category for 2002 – 03
The Maharashtra IT Award in the IT Hardware category for 2003-04
Frost & Sullivan "Voice of Customers Awards" for the Indian UPS Industry
2004; Product line and customer service leadership awards in IT/ITES/Data Centers, Large  Enterprises, Hospitals, Telecom and Customer service leadership award in  Banking/Insurance/ Non-banking fi nancial.
"Today Indian power conditioning market is almost touching Rs 2300 crores. The  market is getting more sensitive and mature to the evolving needs of the businesses"
Emerson Network Power (India) Private Ltd. is headquartered in Thane, Maharashtra and is  supplemented by a strong national network of 4 zonal and 15 branch offi ces. Emerson  Network Power (India) Private Ltd. today is an over 350 strong organization and additionally  addresses the requirements of various markets through 55 business partners and resellers  across India, servicing 22 cities across the country.
Liebert, Asco Power Technologies, and Emerson Energy Systems are divisions of Emerson and  Emerson Network Power. Through its Emerson Network Power companies, Emerson is serving  network-dependent data, telecommunications and Internet-related businesses with a  full spectrum of reliable power and connectivity solutions.

Electricity being the lifeline for growth of the nations. What are Emerson's power   management and UPS solutions (such as Next Gen UPS) in this regard? What edge does they have over other market players in this fi eld?
Newer technologies are very amicable with the Indian power conditions which are very  diverse in different pockets of the country. While the metros have a good power supply, the interiors refl ect a different picture altogether. As one moves towards the interiors, one will  realise that there are frequent power cuts on a daily basis, unclean power and other basic constraints like earthing, cabling and lack of a viable infrastructure that compound the problem. New technologies in the UPS are aimed at either to increase the effi ciency or decrease the cost or both at the same time.

Emerson's innovative technologies and products include:
Sophisticated process control systems that help ensure the effi cient, safe and high-quality production of everything from petroleum and chemicals to food products and pharmaceuticals;
Climate control technologies that enable environmentally friendly, energy-effi cient air conditioning and refrigeration for commercial and residential cooling and comfort;
Reliable power technologies that help safeguard the Internet and phone and computer networks from electric power outages and disruptions;
Durable, energy-effi cient electric motors used by commercial businesses and that run many home appliances; and
A range of other products that bring effi ciency, organisation, convenience and comfort to  homes and the workplace, such as closet and storage systems, kitchen food disposers, ceiling fans, and plumbing and hand tools.
We have also introduced a series of Next Gen products with unique technology anticipating the future requirement of Customers' Data Center.
Xtreme Density Cooling solution for Servers / Racks to eliminate hot spots in data center
DSP based UPS system with unity power factor
Liebert NX with Blackbox technology to monitor entire power events etc
We have also introduced Surge Suppression Solution called as TVSS to take care of surges in entire facility
With innovation being the key driver in today's market, Emerson has a research department  dedicated to new Product Development. The research department has been working consistently to come out with new features or products. As a matter of fact, Liebert NX – the  next generation UPS launched by Emerson in India was worked upon by cross company R&D  teams. A double conversion designed UPS system for which the Indian members of the team  were instrumental in helping conceptualising and designing the product.
Today, one of Emerson's main strengths is its software engineering capabilities, and India goes  a long way in playing a key role in allowing the company to further leverage its competitive advantage.
Apart from UPS there are various other components which plays key role in Power  Management of any facilities which are: Power Distribution Units (PDUs), Surge Suppression Devices, Transfer Switches etc, Emerson has capability to provide full-spectrum of Power  Management solution for any facilities.
The Indian operations serve as a manufacturing as well as marketing hub for South Asian  countries such as Sri Lanka, Bangladesh and Nepal etc.
What are Emerson's products and solutions to cater to the needs of the government, especially to fulfi ll the government's need for power conditioning for their data centre programme?
We have full-fl edged government vertical established which focuses on specifi c requirement  of government sectors. The team is comprises of application engineer and sales personnel to  understand the need of our government customers. We have done some product strategy  based on this vertical. The Cooling and Power Management solutions have some common  inputs. As you are aware, that the power energy used in the data centers gets dissipated as  heat, the cooling solutions are required to remove this heat from the datacenters. Thus, the  integration is from the beginning itself. Some technologies introduced by us in datacenters are Rack Cooling Solutions, Adaptive Architecture, Liebert XD System.
The past few years have witnessed a fundamental change in datacenter design. The  increasing power demands of datacenters due to advanced network server technology have necessitated a radical change in cooling technology to control the heat loads generated by  these datacenters.
Hence, Rack Cooling Solutions have become a key component of cooling solutions as the  servers are housed in these racks. Emerson entered the rack cooling solutions segment last  year post its acquisition of Knurr AG, the global leader in Rack and Enclosure Technologies for  IT and Telecom vertical.
With the launch of rack-cooling solutions as part of its portfolio, Emerson Network Power now  delivers the broadest portfolio of technologies – taking proven cooling technologies from  room-level applications and integrating them into the rack.
To ensure ready availability of rack products basis customer demands, Emerson plans to make signifi cant changes in its operations schedule.
With this, Emerson expects to cut down average lead time from the industry standard of 3-5  weeks to practically zero lead time for all products. Knurr's expertise in racks and its ready  pool of more than 400 patented designs will also allow Emerson to customise and build racks to  meet dynamic customer requirements.
Nowadays, in few server processor designs, the cooling solution is being tried to be  incorporated at the chip level. And, recently Knurr has shipped out Water Cooled racks which  can house high energy consuming servers. Knurr's broad platform of rack systems helps  integrate Emerson's cooling and power management technologies, helping customers solve  problems in new and existing installations and giving data center managers more fl exibility  in facility design.

Emerson is also into the telecom and network verticals. Please tell us about your partnerships in this fi eld with the government sector?
We address telecom as separate verticals and working with leading telecom players to protect  their networks and provide them business-critical continuity solution. We do not have any  formal alliances or partnership but worked with various government establishments for its
requirements.

What is your opinion on the role of IT for an effi cient and transparent  government?
Seeing the growth in economy and surge in latest technology, this is a need of hour. Looking at  huge database and integrating the nation-wide information network from central to state to districts to even village level is humungous task whose common objective is to get things  faster and transparent to avoid mismanagement of funds, delay in services. This is been taken  very seriously by all levels with-in government and we are seeing changes with so  much of e-Governance projects such as State Wide Area Network, State Data Centers, Citizen Service Centers etc. This will trigger our economy growth and create awareness among people  towards faith in government services.

What do you think regarding the PPP mode of implementation of the National e-Governance Plan (NeGP) of the government of India? How can the private sector add value in NeGP implementation?
We believe public-private partnership is the best way to achieve e-Governance objectives.  This is the best practice where one can exploit each other as per their core competencies. Private sector can add value with their expertise on latest technology, skilled man power and  project management experience. Private sector can help government to achieve result in  specifi ed time period with cost effective solution so that public sectors can take it to the  end-user much more effectively.

How big is the power solutions market in India? What are your plans to expand your market in this vertical in India?
Today Indian power conditioning market is almost touching Rs 2300 crores. The market is  getting more sensitive and mature to the evolving needs of the businesses. With India assuming a key role in the Asian economy, businesses have become attuned to the fact that  they need to be robust in terms of infrastructure to attract and retain investors. Hence, Business Critical Continuity is being viewed strategically and upcoming businesses are  realising the importance of factoring and aligning it as key component in the overall business model.
In the new fi scal, the company plans to focus on upcountry market and indulge in solutions  marketing with partners. Due to enormous growth in the Information Technology, Telecom  and BPO sectors, the high-end UPS segment is poised to reap maximum benefi t. Given the fact  that India has emerged as an outsourcing destination for MNC's, this will fuel the growth  of the UPS market with a gradual focus on B & C class cities. In addition, as the quality of  power in these cities is a concern, there is a need for a reliable power protection solution.
Being the leader in its segment, Emerson takes the responsibility of introducing new  technologies and products to the market. Investment is an ongoing process and we will keep  investing in the Indian market.

Comments
comments