egov India 2007
The session titled 'e-Governance in Urban Local Bodies: In Service to Citizens', was held on the inaugural day of the egov India 2007 Conference, one of the seminal tracks of the eINDIA2007, held from 31st July-3rd August, in New Delhi. The session brought the key challenges in municipal e-Governance in India and how IT can help inprove the scenario.
A.K. Mehta, Director, Ministry of Urban Development, Government of India, chair of the session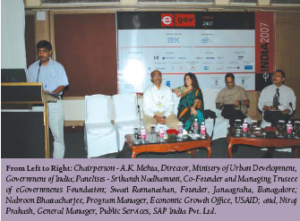 From Left to Right: Chairperson – A.K. Mehta, Director, Ministry of Urban Development, Government of India; Panelists – Srikanth Nadhamuni, Co-Founder and Managing Trustee of eGovernments Foundation; Swati Ramanathan, Founder, Janaagraha, Banagalore; Nabroon Bhattacharjee, Program Manager, Economic Growth Office, USAID;  and, Niraj Prakash, General Manager, Public Services, SAP India Pvt. Ltd.
While welcoming the esteemed panelists and distinguished delegates, A K Mehta, Chairperson of the session, briefed about Jawaharlal Nehru National Urban Renewal Mission (JNNURM). The mission, to be implemented in 7 year period, is the biggest initiative in the history of the urban sector. The scale of investment envisaged in this initiative is INR 0.1 million, out of which INR 50,000 will be invested over a period of seven years by the government of India, and the rest of it will be mobilised from the state governments and the urban local bodies, including financial institutions. One of the key components of the mission is the participation of the private players, which is a key reform under this mission. Other key reform envisaged is e-Governance. There are in fact 23 sets of reforms, some of these are to be implemented by state bodies, but by and large, the thought process is that the urban reforms needs to be JNNURM compliant. There are 33 cities in the countries which are expected to deliver as per the agenda set by JNNURM, by 2008. The urban agenda is thus dictated today by JNNURM, AK Mehta concluded.
Nabroon Bhattacharjee, Program Manager, Economic Growth Office, USAID

Nabroon Bhattacharjee has been working in India for 2 decades on the various aspects of urban governance. USAID has worked with the government of India in designing a mission mode project on urban governance.
N. Bhattacharjee informed some of the recommendations for e-Governance projects designed for improving urban local bodies
1. The design of such projects should keep in mind a system that will have single application for statewide implementation, for fast integration of implementation modules
2. To make it web-enabled application for delivery of services
3. Integration of such projects with other government of India e-Governance and other development initiatives
4. Finally, to have a single and integrated view of urban local body information system across all ULBs across the states
N. Bhattacharjee also touched upon the benefits of e-Governance projects for ULBs from the point of view of citizens, municipalities and decision-makers. From citizens side, the key expected benefit is the access to municipal services, hassle free payment of taxes and user charges, and quick redressal of grievances. From municipalities side, e-Governance would bring in improvement of efficiency and effectiveness of business processes and functions of ULBs. From decision-makers side, improved information and planning for decision making. From employee's side, it would bring in improved efficiency and better delivery of services. From policymakers side, integrated view of performance of the municipalities at the sector and the state-level.
Swati Ramanathan, Founder, Janaagraha, Banagalore
Swati Ramanathan made a presentation of GIS and spatial data and what it takes for government for starting to use management tools like GIS and spatial data in their day-to-day management and in their long term-planning.
She highlighted the spatial data centre initiative in Rajasthan, called SUARAJ (State Urban Agenda for Rajasthan), initiated by the chief minister, two years ago. This urban e-Governance initiative for ULB reforms used the twin-track approach. There were 10 fast track projects chosen and 10 reform track projects were chosen, which were more related to systemic reforms. Systemic reform projects were large scale and long-term, like land reforms, spatial data centres, master plan of Jaipur city in Rajasthan state, etc. The implementation included- creating city maps and GIS, creating city services and property databases with GIS applications, procuring hardware and softwares, and finally city planning. The project used existing investment in hardware and softwares, incorporated the national urban information system data standards, resolved not to redo the areal photography but to update 1999 exercise with  satellite, web-based sharing and updating process adopted, introduced a robust spatial decision support system application suite. In the whole process, Swati Ramanathan recommended that the government and the solution providers need to work very closely, a hands-on relationship is not going to work since the vendor may provide something, but whether it is really used, that is something both need to work on that. Also, just providing the application suite is not enough, one needs also to think what is the institutional structure within the government who is going to take this forward.
Srikanth Nadhamuni, Co-Founder and Managing Trustee of eGovernments Foundation

Srikanth Nadhamuni started his talk by informing about eGovernments Foundation which was formed 5 years ago, in partnership with Nandan Nilekeni, Co-Chairman, Infosys, with a mission to provide e-Governance software platform to run city municipalities. The foundation makes software system available for free to city municipalities in India, although it charges for implementation and customisation services, but the products are licence free. eGovernments Foundation has municipal e-Governance product suite-municipal systems for corporations, municipal councils and town councils.
Srikant Nadhamuni enlisted some of the challenges of urban India. By 2020 – 50% of population will be urban. In year 1947 – 60% of GDP came  from Rural India, but in 2005 – 60% of GDP comes from Urban. Infrastructure is unable to keep pace. Although, urban areas contribute 55% of the country's GDP utilising 3% of land, but municipal revenue is a paltry 0.6% of the GDP. Property Tax is the single largest source revenue in most states. The urban local services do not work very well, so the credibility of ULBs and municipalities. Citizens are reluctant in paying taxes and fees, compounded by corruption and inefficiency at the government level. There are also para-statal bodies that take control of the cities. All this results in poor infrastructure and poor network services such as roads, sewages, water line and electricity, and so on. This is a negative vicious cycle. This is a systematic problem needing systematic changes.
eGovernments Foundation looked at the systems that a city needs to run effectively. This include property tax, financial accounting systems that should be accrual based and so forth. He suggested that if the ULBs have at least their property tax system e-Enabled, an accrual based accounting system that tracks every paisa going in and out, and the pay roll system, they would be in a better situation in terms of providing services to citizens. Governments should first set right the poor data keeping, poor processes, unless the data is not right, what are we going to get connected to.
Niraj Prakash, General Manager, Public Services, SAP India Pvt. Ltd.

Niraj Prakash remarked that technology is not an issue, there are solutions and infrastructure that can provide best in class cutting edge technology, including service oriented architecture. Based on the SAP solution implementation across the world, made two points regarding e-Governance in ULBs. One is service level agreement (SLA). How fast the services are delivered and how transparent (without paying bribes), is the most important for citizens. Secondly, any kind of computerisation should not be just the front-end computerisation (for instance, website from where one can download forms, submit application forms), but must also have back-end computerisation, so that IT initiative is an integrated IT initiative. For instance, in a municipality, the pay roll may be already implemented, online property registration might be there or water billing software might be there, but the rest of the pieces are mssing, so there is a huge need for a capacity to integrate this so that the SLAs are met. In implementing e-Governance in an ULB, where it may not be possible to have a separate consultant for process re-engineering, we need to look at a solution which in itself brings certain best practices so that while the solution is being implementation, automatically brings in a business process re-engineering exercise. Gave the example of e-Governance implementation by SAP in municipal corporation of Greater Mumbai, where this kind of a situation occurred.
Niraj Prakash, while lauding the e-Governance efforts of the ministry of urban development, said that the whole process of designing the project and empanellment takes a lot of time. The ministry needs to have some kind of mechanism by which there is a very high level of contractual bonding between the public and the private sector,  so that, the whole thing can be taken up as a software as a service model.
The session concluded with an interesting interaction with the panelists and delegates. The chairperson thanked the panelists and presented mementos to them, on behalf of the organisers.