Cheers for budgeT on e-governance

P. Chidambaram, Union Finance Minister, Government of India, has allocated Rs. 5 billion during the 2007-08 budget to bring about increased efficiency, convenience and transparency of e-Governance. Stating that the government intends to launch more ambitious e-Governance programmes to provide increased services to the masses, Chidambaram also announced the increased previously allocated Rs. 3 billion to Rs. 5 billion to state governments in fiscal 2007-08.
The increased allocation for e-Governance has been widely welcomed by major IT players. A website Channeltimes.com quoted Nandu Kumar Pradhan, President & MD, Red Hat India, as saying that this would help drive the growth of the domestic IT industry due to Government's commitment withan increase in allocation for e-Governance projects both at the Centre and State. Echoing Pradhan'sview, R. Sivakumar, Managing Director, Intel – South Asia, said that the announced budget is consistent with the Government's policy to expand IT infrastructure. The additional allocation of investment and focus on e-Governance would prove to be positive for both the economy and the people. According to Raju Vegesna, Chairman and CEO, Sify, the focus on Central and State e-Governance programmes would benefit everyone with better governance that is transparent, efficient and citizen friendly. Vegesna, however, regretted that cyber cafes and Internet access services have not been made exempt from service tax. The exemption would have ensured that more citizens had access to the Internet to participate in e-Governance, he said.
e-Tendering by gail

Adhering to the India's Finance Ministry directives that all go vernment departments launch e-Tendering from July 1, the state-owned Gas Authority of India Limited (GAIL) recently launched e-Tendering. According to U. D. Choubey, Chairman and Managing Director, GAIL, e-Tendering would enhance the company's operational efficiency. Choubey said, "e-Tendering meets the objectives of public procurement process to be transparent, fair and equitable. With e-Tendering tool our efficiency would increase as it aids faster decision making and reduces the cost of transaction. The e-Tendering platform provides for digitally signed tender and bid documents for user authentication and has facility for vendors to upload queries."
India to have 13 million wimax subscribers by 2012



Maravedis Research and Tonse Telecom, leaders in broadband wireless research and analysis, have forecasted in their report "India Broadband Wireless and WiMAX Market Analysis and Forecasts 2006-2012," that there will be 13 million WiMAX subscribers in India by 2012. The report is the third of a series that includes reports on Brazil and Russia, provides an in-depth review of the broadband wireless and WiMAX markets as well as regulatory activity taking place in India.
As per the report, the Indian telecom sector operates in a volume-driven market. If WiMAX is to succeed it will only be on the premise of huge volumes not, small deployments. "There is huge potential for broadband wireless Internet and voice-over-IP services in India because there are still more than 600,000 villages with no basic communications services," explained " says Sridhar T. Pai, co-author of the report and CEO of Tonse Telecom. 'India is adding more mobiles per year than the total number of fixed line phones added in the first five decades of becoming an Independent nation (1947). This massive revolution has changed lives, improved GDP, increased productivity and made vital contribution to India's progress. The broadband scenario is on the verge of a similar upheaval. From a mere 1.5 million connections currently, Indian broadband market will grow manifold in the next six years to become potentially one of the top broadband wireless markets on the planet. The resulting eco-system and opportunities are a vendor / investors dream destination' added Sridhar. The challenge however is shortage of spectrum, which is a serious obstacle for massive adoption of broadband wireless and WiMAX in India.
indian railways on it Track
Laloo Prasad Yadav, Union Railways Minister, Government of India, recently presented the widely acclaimed Railway Budget 2007-08, which prominently focussed on use of IT. Yadav announced several initiatives concerning e-Ticketing and smart cards for citizens. The Ministry announced that PRS (Passenger Reservation System) counters would be opened at the premises of Post offices and defence organisations and operated by them; e-Ticketing services through State Government's e-Services, petrol pumps, Bank's ATMs etc.; 6000 Automatic Ticket Vending Machines to be installed and linked to UTS (Unreserved Ticketing System) in metropolitan cities in the next 2 years; and, pilot project on Central railway for issuing suburban tickets through multipurpose smart cards. Presenting his fourth consecutive Rail Budget, Yadav said, "The scheme of booking tickets on the Internet has gained immense popularity. e-Tickets would be issued through state government e-Seva centres, post offices, petrol pumps and ATMs in order to expand the reach of reserved railway ticketing to all parts of India. To encourage e-Ticketing, the e-Ticket charges of sleeper class and air-conditioned classes have been reduced from Rs. 25 to Rs. 15 and Rs. 40 to Rs. 20 respectively," and added, "Railway call centres would be also set up for providing information regarding arrival and departure of trains and seat availability."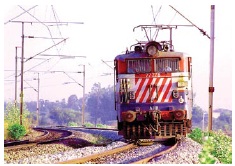 Currently, any customer can booktickets through the Internet by making online payments, which is done through either direct Debit through the Internet and Prepaid cash cards in addition to credit cards. Ticket bookings could also be done through mobile phones. Integrated Train Enquiry System has also been launched for knowing Train Running Status, PNR Status, and availability of accommodation through Interactive Voice Recording System. In order to provide updated position to the passengers, National Train Enquiry System [www.trainenquiry. com] has been established, whose centres would have the capacity to handle one lakh calls a day.
Localisation of e-Governance Applications: Issues & Standards

Brainstorming at MAIT workshop
A two-day workshop on 'Localisation of e-Governance Applications: Issues and Standards' was organised from 21-22 February at New Delhi by the Manufacturers' Association for Information Technology (MAIT), and supported by the Technology Development of Indian Languages (TDIL), Ministry of Communications and Information Technology. The effective use of IT services in government administration can greatly enhance existing efficiencies, drive down communication costs and increase transparency in the functioning of various departments. However, not all e-Governance applications follow the worldwide acceptable standards viz. Unicode, W3C, Font Encoding, Keyboard Layouts, et al. It is in this background and to apprise the e-Governance Developers' community of the worldwide acceptable standards, this workshop was organised. It was attended by several language computing experts, academicians and developers.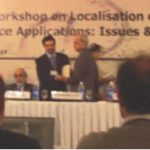 The workshop was inaugurated by R. Chandrashekhar, Additional Secretary, Department of IT, Government of India. Vinnie Mehta, Executive Director, MAIT, welcomed the participants and eminent panelists. Lauding the role of the C-DAC (Centre for Development of Advanced Computing) and Ministry of IT for their pioneering work in language technology, Chandrashekhar stressed the need for a huge eco system for localisation of e-Governance applications, which involves bigger group of companies. "It is heartening that hardware companies' response has been positive. The MNCs like Microsoft have supported the government in its e-Governance endeavour," Chandrashekhar said and added, "For successful e-Governance implementation, deployment of applications in local languages is quite important so that every citizen of the country can access it without any problem. It is with this objective that the Common Service Centres (CSCs) has been envisaged by the Government of India." According to him, it is a huge challenge to do this in 22 languages and expressed the hope that the workshop will inspire more participation from the private sector to accomplish this daunting task. Dr. B. K. Gairola, Director-General, National Informatics Centre, highlighted the importanceof backend systems, and stated that an effective G2C services could not be provided without a robust backend. Besides, an effective rollout of such systems cannot be done unless there is localisation. In her address, Neelam Dhawan, Managing Director, Microsoft, emphasised the need for an effective partnership between government, private sector and citizens in order to make e-Governance initiatives successful. "The task of interfacing Internet in local languages is a challenge. There are alsoissues of insufficient content and  tandards.Organisations like C-DAC and Microsoft are working in local languages, and Windows isavailable in 14 languages. However, the issue  remains that of the challenge of availability of databases," Dhawan said.
S. Ramakrishnan, Director-General, C-DAC, pointed out that government drives the Indian language computing. He felt that the pressure is now on for Indian language computing from government departments responsible for e-Governance. Earlier, localisation was an issue of locals but now applications need to be fed into first, Ramakrishnan said. Dr. Daniel M. Dias, Director, IBM India Research Lab, laid the stress on standards as the key to e-Government transformation and reaching out to the citizens. He informed about the IBM project in the State of Madhya Pradesh on Hindi Speech Recognition, working successfully.
The workshop sessions included speakers such as R.K.V.S. Raman, C-DAC, Bangalore; Aparna Ramamurthy, C-DAC, Mumbai; M.D. Kulkarni, Group Coordinator-GIST, C-DAC, Pune; Vijay Kumar Gugnani/Karunesh Arora, C-DAC, Noida; Kewal Krishnan, Technical Director, National Informatics Centre; Jaijit Bhattacharya, Country Director, Sun Microsystems; U.B. Pavanaja, Chief Executive, Vishwa Kannada; Ramakrishna Reddy, Red Hat; Abhijit Dutta, Globalisation Specialist, IBM; Prof. Girish Nath Jha, JNU; and, Gora Mohanty, C-DAC, Bangalore. The session topics included localisation and internalisation basics, localisation standards, localisation of web applications, and internalisation of applications.
The workshop concluded with key points and recommendations, which are as follows: Localisation is the actual adaptation of those sites to meet the language, cultural and other requirements of a specific target market; only 20% of Asia's population speak English, so there is the need for localisation, particularly user-friendly interfaces targeted towards ruralenvironment; e-Government is about text data, therefore universal character coding (Unicode) is needed so that every character gets its unique number; there exist challenges in migrating from legacy systems; pre-translation testing helps in user interface, localisability and site stability even before localisation; standards are needed for interoperability between different operating systems and interoperability between language tools supplied by vendors. Government must enforce standards; there should be adoption of W3C standards for developing websites in Indian languages; there is a need to adopt open document format for G2C interactions; workshops need to be organised to arrive at standards. Ability to have standards for machine translations will smoothen interactions between regions within India; and, there is a need to have a recommended glossary for every language, and the government must create and own the glossary.
Conference Website: http://www.mait.com/events/ events75-egov%20workshop.htm