Virtual NetComm mulls e-Governance foray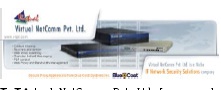 Virtual NetComm Pvt. Ltd. [www.vnpl. com] has decided to venture into e-Governance. Virtual NetComm is based in Ahmedabad, and is the sole distributor in India for Blue Coat Systems of California, which is engaged in securing web communications, WAN optimisation and video streaming. Rajendra Shah, Director, Virtual NetComm, disclosed, "The company is on the verge of clinching a deal with two state governments and various other state and central-backed organisations under which proxy appliances in web communications would be provided in order to protect against risks and inefficiencies from spyware, web viruses,  nappropriate web surfing, instant messaging, video streaming and peer-to-peer file sharing to the state government departments and organisations. The deals are expected to be worth Rs. 70 crore, and solution implementation to be completed by the end of 2007." Currently, the market for security solutions in e-Governance in India is estimated to be around Rs. 400 crore and is on the ascendancy.
Hyperwave solidifies presence in e-gov sector
Germany's Collaborative Information Management (CIM) solutions provider Hyperwave has

strengthened its market presence in the international e-Government sector. According to the company communiqué, Hyperwave, along with BULL Information Systems Ltd., recently implemented an infrastructure for Barnsley Metropolitan Borough Council (BMBC) in Yorkshire, England. The setting of the infrastructure would enable the council's entire information base becoming accessible in a structured format, efficiently managing web content and complying with data and information management regulations. Among other Hyperwave customers includes the Federal Employment Agency, the City of Edinburgh, the American Department of Defence, Audi, Fujitsu-Siemens, Toshiba, Telekom Austria, EADS and Deutsche Bahn AG (German Railways).
alcatel-lucent inVests in wimax Chipset Vendor

Alcatel-Lucent announced it has invested in SEQUANS Communications, a leading supplier and developer of fixed and mobile WiMAX semiconductor solutions. The investment is an extension of Sequans' recent round of funding announced in July 2006. Terms of the investment agreement were not disclosed. "Our investment in Sequans shows our commitment to WiMAX and our interest in supporting the development of the leading WiMAX technologies," said Karim El Naggar, Vice president of Alcatel-Lucent WiMAX Business Unit.
Collaboration for mobile WimaX technology

Beceem Communications, a leading provider of chipsets for Mobile WiMAX technology, recently announced that Samsung Electronics Co., Ltd., a leading provider of mobile phones and telecom systems, selected Beceem as one of its major Mobile WiMAX chipset vendors. Beceem expects that the company's chipset would be in various Samsung WiMAX-enabled devices. Shahin Hedayat, CEO & Co-founder of Beceem, reported, "Samsung's selection of our chipset is a result of our close collaboration with Samsung's Mobile WiMAX development team. This collaboration has resulted in our Mobile WiMAX product leadership and has facilitated Samsung's product development, market trials and deployments".

e-ticketing services for indian's domestic sector by Galileo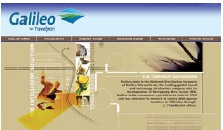 India's state-owned flag carrier Indian has selected Galileo as its major GDS partner to provide e-Ticketing services to its domestic sector. Galileo India pioneered e-Ticketing revolution in India. The facility would now enable Galileo users to issue e-Tickets for Indian's domestic flights departing from 11 cities such as Chennai, New Delhi, Bangalore, Hyderabad, Kolkata, Mumbai, Ahmedabad, Nagpur, Pune, Goa and Bhubaneshwar, to the six Indian metros such as Chennai, New Delhi, Bangalore, Hyderabad, Kolkata and Mumbai.
Dr. Vishwapati Trivedi, CMD, Indian, expressed happiness at the development and hoped that this would not only simplify the business but also provide more convenience to the passengers. "The e-Ticketing initiative would help travel agents enhance efficiency and productivity, as it would cut down ticketing requirements and consequently printing of flight coupons. Travel agents can focus on
their core competency – travel consultancy and research, rather than issuing and delivering tickets," said Bruce Hanna, COO, Galileo India.
Greek digital City e-trikala to be set up With ericsson support

e-Trikala, the first Digital City of Greece, would be set up with the support of Ericsson, which would provide FTTx backbone telecommunications infrastructure in order to bring broadband services to the city's population. Until 2008, Ericsson would be supplying switching, WiFi systems and a metropolitan area fiber optic network, as well as related telecom services such as consulting, deployment, systems integration and customer support.
The fiber optic Metropolitan Area Network (MAN) would extend to about 15 km throughout the city linking a range of public utility and government buildings. The MAN would also be linked to both the National Network of Public Administration (Syzefxis) and the Internet. The services to be developed, deployed and supported by the MAN includes an electronic marketplace for local enterprises, Geographical Information Systems (GIS) for environmental and emergency data, intelligent transport network and health care programme, a metropolitan-wide emergency response system, urban telework centres and distance learning courses for the unemployed.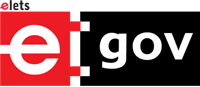 Recommended from all portals