E-JUSTICE PROGRAMME IMPLEMENTATION BY 11 MALAYSIAN COURTS
UNDER MALAYSIA'S e-Justice system, the administration system of 11 courts in Putrajaya and Kuala Lumpur has been computerised. The Malaysian Government has decided to implement the e -Justice system in all the 410 courts throughout the country. Malaysia's e-justice project is being implemented under the Court Computerisation Master Plan formulated in 2003. The e-Justice system is being implemented in four stages — development of basic justice technology; content management system; electronic case fi ling and trial management system; and, file tracing.
Datuk Seri Mohamed Nazri Abdul Aziz, Minister in the Prime Minister's Department, during the handing over ceremony of the e-Justice system to Malaysian judiciary recently, said, "Malaysia is among the fi rst in the world to opt for an electronic judicial system. We have seen the effectiveness of the e-Justice system and would implement it at all the courts in the country," and added, "e-Justice would help in the automation of the justice administration system through the application of the case management system at 11 trial rooms, and in the court recording and transcription system in two trial rooms."
e-Passports in Taiwan starting 2008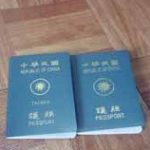 FROM 2008, Taiwan's Ministry of Foreign Affairs would begin issuing e-Passports. Wang Chien-yeh, Foreign Ministry spokesman, said that the e- assports would store personal information on a tiny radio frequency identifi cation computer chip. Wang said, "It would be very diffi cult for counterfeit rings to get any personal information from the e-Passport. There is some hidden information, but they wouldn't be able to see it. So, actually these passports will be quite effective in protecting against counterfeits."
BY 2008, VIETNAM TO ADOPT E-CUSTOMS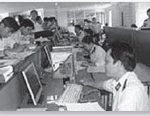 VIETNAMESE CUSTOMS would introduce nationwide e-Customs clearance procedures by 2008. The decision comes after successful pilot program introduced by the General Department of Customs (GDC) in the northern port of Hai Phong City and Ho Chi Minh City few years ago. The pilot program was also offi cially introduced in September 2005 in some key provinces. Several businesses lauded the new system saying that it took a mere 2-3 minutes on average to have goods cleared instead of the usual 7-8 hours when filling out paperwork by hand. However, Customs offi ces at the borders are yet to be linked with the system. The Ministry of Trade is undertaking the e-Customs project as part of a larger e-Commerce project.
E-MARRIAGE SYSTEM IN MALAYSIA'S KELANTAN SOON


TO KEEP an effective check against growing number of forged marriage certifi cates among Muslims in Malaysia's Kelantan, an e-Marriage (Nikah) system accompanied by a security-seal certifi cate would soon be introduced. According to Kelantan State Religious Development Committee Chairman Hassan Mohamood, the e-Marriage system would assist state religious authorities to keep tab on legitimate marriages performed by licensed Kazis. Setting up of an e-Marriage system comes in the wake of the state Syariah High Court ruling against a couple charged with forging their marriage certifi cate. Hassan said that the newly married couples would get a new security- seal document featuring security contents that could be verifi ed only by the state religious authorities. The document would also bear an electronic signature of the Kazi who solemnises the marriage, thus making it difficult to attempt a duplication of the signature. The move is being made particularly for those who marry without consent or those taking second or third spouses, and falsifying their documents.

BEIJING 2008 OLYMPICS E-MAP LAUNCHED

FOR THE Beijing 2008 Olympic games, the English e-Map for the offi cial website was launched recently. The Chinese version has already been released on 23rd January 2005. The Olympics Games offi cial website would for the fi rst time use electronic GIS (Geographic Information System) applications in multi-languages. The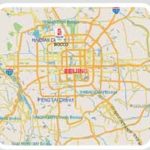 dynamic map features Olympic competition venues, Olympic- licensed stores, subway stations, and traditional dwelling blocks in Beijing — Hutongs. Besides, the map would act as a practical city guide platform with information regarding government institutions, health and medical community, academies, entertainment, media, shopping, real estate, chambers, sports venues, scenic spots, catering, and hotels and restaurants. More information and functions would also be integrated into the map in the run-up to the 2008 Olympic Games.