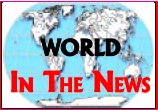 Mobile surveillance tool for N. Ireland Police 
The Police Service of Northern Ireland (PSNI) has gone live with abmpegasus Telecoms, a software solution designed to manage requests for accessing and analysing an individual's communications data All police forces will gain authorisation from a 'designated person' prior to accessing  the mobile phone, internet and postal data.
Research initiative to adopt open computing standards in Asia Pacific nations

A joint research initiative would soon be undertaken by the United Nations Development Programme (UNDP), IBM and oracle aimed at helping Asia-Pacific Nations to share and create strategies, blueprints and policies for the adoption of open standards and technology services. More countries would be prompted to develop universally compatible applications and networks to make internal and external government services and transactions more automatic, affordable and efficient. According to a UNDP press release, the development of government interoperability frameworks (gifs) would be facilitated by the UNDP Asia-Pacific Development Information Programme (UNDP-APDIP). It may be recalled that GIFs have been developed by several countries across the world in order to develop government-wide systems and policies for electronic transactions and data and information exchange. As part of the research initiative, UNDP-APDIP, IBM and Oracle, along with the International Open Source Network (IOSN), would conduct a thorough review of how the governments in asia-pacific and beyond are promoting efficient, government-wide sharing of information and data by focusing on automatic technology services provided by computing networks, instead of individual technologies. The research would particularly examine how existing GIFs are focused on a service-oriented architecture.
e-Procurement system for British Olympic Association



In its preparation for the 2012 games, the British Olympic Association (BOA) has selected an e-procurement system that would replace an ineffective paper requisition arrangement. Howard Beeston, BOA's Finance Director, said That the paper requisition system was unable to meet the organisation's current needs. This also resulted in human error pertaining to the recording of the transactions. The touchstone group has supplied the e-procurement system. Beeston Hopes that the system would provide greater structure in managing the expenditure with superior information that was previously unavailable.
Companies e-Registry system upgraded in Malta

As part of the e-government strategy, the Malta Financial Services Authority (MFSA) recently launched an upgraded internet service for practitioners and citizens to register new companies and file company documents online in a secure and simple manner. The new online service is in compliance with the requirements of the EU (European Union) law necessitating electronic submission of information. The upgraded online system would enable e-filing of documents, e-payments for new company registration and annual returns, and a free company name check. Besides, users would also be able to obtain their own electronic signature and submit electronically signed documents.
'e-Government to remain on agenda for 2007': Survey

The government Technology World 2007 survey result has indicated that egovernment would continue to remain on agenda for 2007. The findings come after Terrapinn interviewed some 200 CIO/Director level employees of government agencies on their priorities and key drivers for ICT programmes. The importance of e-government in their organisations has been listed by 32%, who accord it as a high priority. e-government was not a priority at all for 14%; e-government solutions were being investigated by 41%; while the remaining 13% said that they were piloting an e-government programme. According to the survey, IT system integration– maintaining security and reliability, remains number one challenge. Regarding vendor relationships, 29% of agencies said that they were looking to advance interagency collaboration with Microsoft, 18% with IBM, 14% with HP and 12% with Sun.
Campaigners urge Internet charges reduction in Kenya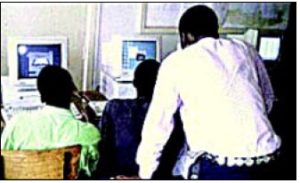 Marcel Werner, the first Vice-Chairman of the Kenya ICT Federation, and Dr Kevit Desai, Centurion System's Director of Engineering, have urged the subsidizing of internet srvices in Kenya to enable people extensively use ICT to Power development in rural and urban areas. On the eve of the completion of their 1-year drive for internet use termed 'Power up with ict', the two campaigners expressed happiness at the increase of internet users in the country, and said that Kenya is now second to South Africa in the use of internet in Sub-Saharan Africa. "In Malaysia and Thailand, the services are five times cheaper than in Kenya. In fact, the services should be free in the education and health sectors. ICT service users had increased from 300,000 in 2004 to one million," Werner and Desai said. The campaign targeted agriculture, tourism, healthcare, education and urban development.
Taiwan, St. Kitts/Nevis to cooperate in ICT, e-Government

Sen. Nigel Carty, St. Kitts/nevis minister of State for Information and Technology, and James C.F. Huang, Taiwan's Minister of Foreign Affairs, recently signed a letter of intent on cooperation in ICT. According to the agreement, Taiwan has resolved to help St. Kitts/Nevis in the field of ICT and promote the level of digitisation. Speaking on the occasion, Carty said that St. Kitts/Nevis has deemed e-government as one of its significant national policies on development and recognises the importance of bridging the digital Divide and establishing an e-society as a means of improving the country's sustainable development.
'IT development in Turkey lopsided': OECD Report

The Organisation for Economic Cooperation and Development (Oecd) Report recently stated that the development of Information Technology in Turkey is lopsided. According to the Report, the internet access in the country continues to be around 14% as compared to 47% in the European Union. "The internet access rate is higher at 19% in urban areas, while in rural areas it still remains at 6%. The internet is being used by 19% men as opposed to only 9% of women," the Report pointed out. The Report advocated the need for stronger efforts for eliminating the gap. The government has also been advised to increase the number of internet cafés for providing education and guidance for citizens. So far, Turkey has focused more on providing better and faster internet services to the Business World than for home users.