Cabinet approval for 100,000 rural CSCs
Some 100,000 rural Common Services Centres (CSCs) would be set up across India at a total cost of INR574.20bn (US$12.50bn). The Cabinet Committee on Economic Affairs (CCEA) recently gave its approval. The Government of India (GoI) would contribute INR85.60bn (US$1.86bn), the State Governments' would contribute INR79.30bn (US$1.72bn) while the balance amount of INR409.30bn (US$8.91bn) would be coming from the private sector. The Department of Information Technology (DIT) would implement the project through a Public-Private Partnership (PPP). Proposed to be rolled out by March 2008, the CSCs are expected to substantially extend the reach of digital services and economic opportunities into the rural and remote areas of India. It may be noted that the creation of CSCs are a part of the National e-Governance Plan (NeGP),approved by the Government in May 2006 to introduce e-Governance on a massive scale.
The CSCs would cater to 600,000 villages (i.e. at least one CSC in a cluster of six villages) across the country. The CSCs would provide high quality and cost-effective video, voice and data content and services in the areas of e-Governance, education, health, telemedicine, and entertainment as well as other private services. The e-Governance services in rural areas include application forms, certificates, and utility payments such as electricity, telephone and water bills. Some 100,000 direct jobs and 2-3 lakh additional indirect jobs are likely to be created when the CSCs become fully operational.
IBM helps build National portal



The Indian government recently unveiled plans to build a National portal for citizens to access thousands of services ranging from business permits to housing subsidies and tax advice. The portal would also act as a central repository for tech services contracts posted for tender by the central government. IT company IBM, which was awarded US$5mn contract, would help the government to build its new National portal. The site would be accessible through PCs, mobile devices, and the numerous CSCs (Common Service Centres) that the govern-ment would be setting up in India's rural areas.
N. Vijayaditya, Director-General of India's National Informatics Centre, said, "It will be much easier for foreign companies to find out what they need to know about doing business here." and added, "The National Portal would rely on a range of IBM's WebSphere middleware to link the system to websites already operated by Indian central and state governments. This couldn't work without such open standards."
Orissa wins 5th India-Tech excellence award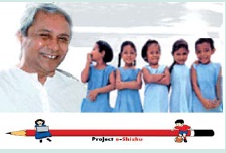 The e-Governance initiatives in Orissa have been recognised. The state has won the 5th India-Tech Excellence Award for being one of the most progressive state government. Besides Orissa, the case studies to be shortlisted include those from Delhi, Gujarat, Madhya Pradesh, Punjab and West Bengal. An eminent jury chaired by Justice A. M. Ahmadi, former Chief Justice of India, selected Orissa for the award. The Award was judged on the criticality of IT usage, improvement in service, impact on quality and productivity, impact on society and innovation in terms of reach and replicability, tangible impact on efficiency, operational costs and decision making and demonstrating functionality of providing various information relating to e-Governance.

Orissa presented Project e-Shishu as a case study to demonstrate the use of ICT and involvement of the state and district administration in delivering governance. The e-Shishu project has been conceived to track each and every child in the age group of 0-14 years, which can ensure his/her fundamental right to education. It provides a technology framework in e-Governance. The project started in September 2005 with a vision to have a database of all children by name with 26 parameters. In Orissa, a core committee has been formed under the chairmanship of DC and ACS to find out ways to use the Child Tracking System data for other departments like Health and Family Welfare (H&FW), Women and Child Welfare (W&CD), SC&ST and Labour.
After the Project Validation of Child Database (continuing), the plan is to have unique child Code of all children from 0-14. The plan of scaling up has already started with W&CD, which is going to use the database of this child from 0-6 and 6-11 for their Supplementary Nutrition Program and Mid-day meal schemes. Further the plan is to add more indicators to the same database with mother and old age people information. Once this is achieved W&CD would be responsible to manage and update 0-6 yrs child database, mother information and old age beneficiary details. School and mass education department would manage and update the database of 6-14 yrs only. Similarly, other departments would start adding more parameters to the same database for there monitoring purpose. The Award is a morale boost for the state and its officers who have made this innovative project a success.
Dr. Pradeep Rout
pradeep.rout@ocac.in