Maran launches MCA-21 in Chennai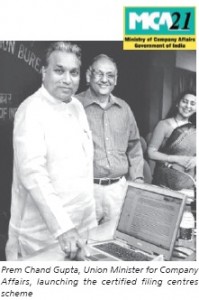 Dayanidhi Maran, Union Minister for Communication and Information Technology, recently launched the MCA-21 project in Chennai amid the presence of Prem Chand Gupta, Union Minister for Company Affairs. With this, Chennai has now become one of the 17 centres in India where MCA-21 has been introduced. The project has already been successfully implemented in New Delhi, Mumbai, Bangalore, Ahmedabad and Hyderabad, besides others. Maran said that the MCA-21 project was the largest full-scale deployment of IT in the Government of India (GoI) in the shortest possible time frame, and has been adopted as a 'thrust area' project for the GoI.
Meanwhile, Prem Chand Gupta, Union Minister for Company Affairs, recently launched the certified filing centres (CFCs) scheme across the country to facilitate faster online registration of companies. CFCs have been launched as part of the MCA-21 e-Governance project. Gupta said, "The GoI is targeting to have a completely paperless ROC (Registrar of Companies) office.
e-Filing would be made compulsory by mid-September. All those interested should get their DIN (Director Identification Number) to register their company. With the implementation of the CFCs programme, a company would be able to get registered within 1 hour," and added, "Out of the 7.50 lakh companies operating in the country, while 10,424 had got themselves registered, about 1.94 lakh firms had opted for e-Filing." Currently, 53 CFCs are operational in India, with more to be opened in 85 locations across the country.
SBI to install ATMs at 681 railway stations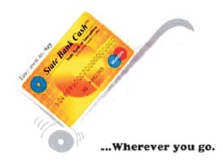 H.V. Sharma, Executive Director (Passenger Marketing), Railway Board, and Mr Syed Shahabuddin, Chief General Manager (IT), SBI, recently signed a Memorandum of Understanding (MoU) under which the State Bank of India (SBI) would install automated teller machines (ATMs) at 681 railway stations, including 298 small stations having no ATMs presently, across India. This is in compliance with the Ministry of Railways' policy in 2001 to install ATMs at railway stations. As such, within 5-years time some 150 ATMs have been installed at major railway stations in the country.
e-Government reaches grassroots!

The Panchayati Raj ministry is planning to implement e-Government solutions at the lowest level of administration i.e. panchayats. This initiative by the central government, under its National e-Governance Plan (NeGP) is intended to take the e-Governance to the grassroots level in India. The aim is to enable all panchayats in the country to make it possible for village populace to access services offered by the panchayats online.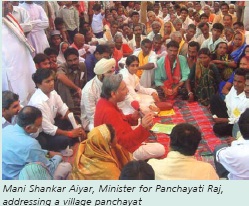 Mani Shankar Aiyar, Minister for Panchayati Raj, addressing a village panchayat

Mani Shankar Aiyar, Minister for Panchayati Raj said that e-Governance is one of the essential elements under the proposed Gram Swaraj programme. Aiyar said, "This would help panchayat in using IT as a tool for transparency, disclosure of information to citizens and social audit, to better deliver its mandated services to the citizens and e-Procurement. States and panchayats can also use IT for electronic tagging and tracking of funds transferred to panchayat from higher level of governments, including rapid bank transfer of funds, tracking fund transfers to, and expenditures of the panchayats." NeGP envisages developing common standards and benchmarks to ensure the integrated application of IT at the village level. Already, a few panchayats in the States have already started implementing pilot project for e-Governance at the panchayat level with support from their respective governments.
In an effort to extend the reach of e-Ticketing, the SBI along with the Indian Railway Catering and Tourism Corporation (IRCTC) has also agreed to provide ticketing facility through Internet ticketing kiosk at 383 major stations. Under the agreement, SBI would pay an annual licence fee of about INR100.5mn (US$2.16mn) to the Railways.
Haryana's ADHAAR to strengthen e-Gov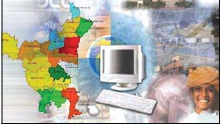 The Haryana Government plans to set up a statewide area network (SWAN) that would connect the state headquarter office at Chandigarh with all the district headquarters at the Block/Sub-Division/Tehsil/Sub-Tehsil levels in an attempt to establish a communication channel to support all its e-Governance initiatives. Named 'ADHAAR', meaning foundation, the initiative would act as intranet between various units in the State and enable the State Government to take e-Government services to all the rural areas, besides managing various State Government projects and programmes.
The initiative is expected to be complete within a year. Haryana State Electronics Development Corporation (HARTRON) would oversee the implementation of the project.
Anurag Rastogi, Managing Director, HARTRON said, "The main objective of the project is to create a robust networking infrastructure throughout the state which will ensure seamless connectivity, allow exchange of data, voice, images and facilitate such services as email messaging and video conferencing between various state government offices." The service providers would have to operate the project on the Build Own Operate and Transfer (BOOT) model for a period of 5 years.
1,000 telecentres in Karnataka soon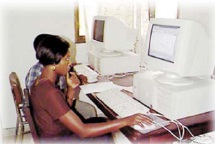 Some 1,000 telecentres on the lines of 'Bangalore One' would be opened soon by the State Government of Karnataka, to enable people living in rural areas to pay all their bills, apply for a passport, pay taxes and apply for Katha certificate. Rajeev Chawla, State's e-Governance Secretary, said that the proposed telecentres would be opened at Hoblis and linked by VSAT connectivity. Chawla said, "People in other parts of Karnataka would be able to pay their bills, buy bus passes, check land records and access 38 services of the Revenue Department through kiosks at telecentres. People would also be able to lodge a police complaint from there," and added, "It is also proposed to sell air tickets in 'Bangalore One' centres and talks were on with airlines such as Kingfisher, Air Deccan and Indian."
Study group to promote e-Governance in Delhi
A study group has been formed to speed up computerising of all its major departments by the Delhi government in order to advance its e-Governance projects. A.K. Walia, Delhi Planning and Finance Minister, said that he has instructed senior officers of the departments of trade and taxes, excise and entertainment to speed up the process of computerisation in their respective departments to further e-Governance in Delhi. According to state authorities, efforts were on to ensure online filing of monthly returns by 6,000 traders. At present, there were only 700 key dealers to adopt e-Filing of annual returns.
Tamil Nadu to introduce e-Stamping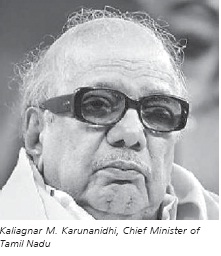 M. R. K. Panneerselvam, Tamil Nadu's Backward Classes Minister, recently announced in the State Assembly that the Tamil Nadu Government was mulling to introduce an e-Stamping facility in order to prevent registration in fake stamp papers and thus try to offset revenue losses suffered by the Government. Panneerselvam said, "The previous AIADMK regime did not implement this even though the Union Government had brought in amendments in the Registration Act, 1908, making affixing of photos of registrants mandatory." He revealed that the DMK Government has introduced e-Stamping with effect from 1st July to prevent fraudulent and benami transactions, and benefit the people. The Government has also ordered affixing of holographic stickers on registered documents and the certificates issued by the department in order to differentiate between fake documents and original ones.