SAP, IIM-B to focus on e-Gov initiatives in public sector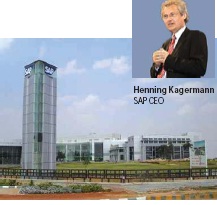 SAP, IIM-B to focus on e-Gov initiatives in public sector SAP India and Indian Institute of  Management – Bangalore (IIM-B) have entered into a partnership to focus on e-Governance initiatives in the public sector in India. Alan Sedghi, SAP India President and CEO, and Shyamal Roy, IIM-B Academic Dean, signed a memorandum of understanding (MoU) in this regard. According to the MoU, SAP would support IIM-B's Centre for Enterprise Resource Planning (ERP) while IIM-B would assist SAP in creating, sharing and disseminating knowledge relating to use of ERP and the pursuit of e-Governance in  public sector.
Meanwhile, Henning Kagermann, SAP CEO, has announced that SAP would invest about US$1bn in India over the next 5 years. Kagermann, who inaugurated an office in Gurgaon recently, acknowledged India as one of the top eight strategic and one of most important markets for SAP, and which has become a strategic hub in the region. "India continues to grow in its importance to SAP. We are seeing phenomenal growth in demand for our solutions from Indian enterprises," he said.
Kagermann also declared that a Centre for Excellence would be set up at Gurgaon to showcase various SAP applications that enable successful government transformation. In the next few years, India is expected to make significant investments in e-Government.
CMS help UP Government launch e-Suvidha project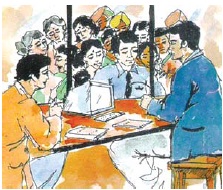 The Uttar Pradesh government recently launched the e-Suvidha project in Lucknow with the assistance of CMS Computers Ltd., a Hyderabad-based IT company, in a significant step to steer the e-Government process in Uttar Pradesh. The project was formalised following an agreement by the state IT department, UP Power Corporation Ltd. and CMS. According to the government, e-Suvidha services would be free for the power consumer depositing bills at its centres. Besides, power consumers would be able to pay their electricity bills in over 32 centres.
N. C. Bajpai, UP Chief Secretary, informed that e-Suvidha, an ambitious e-Governance programme, is an information technology-enabled public utility interface that would eventually connect across the state after initially being implemented in Lucknow. Upon becoming fully operational, e-Suvidha would connect select services and information of state, central and semi-government department and agencies for providing one-stop solution with a 'single window all services' concept. During the first phase, 5 e-Suvidha centres and 29 e-Suvidha kiosks would be established.
HP's Electronic Prescribing and Eligibility System for Northern Ireland

The Government of Northern Ireland has decided to do away with paper prescriptions, and would embark on to develop an e-prescriptions service with the help of Hewlett Packard (HP). The Department of Health and Social Services and Public Safety recently announced that Hewlett Packard Northern Ireland would be developing the Electronic Prescribing and Eligibility System (EPES) following an 8-year contract. Paul Simpson, deputy secretary at the health department, said that community pharmacies across Northern Ireland would be equipped with an electronic system to transfer prescriptions over the next two years. Simpson said, "The computerised system is expected to save the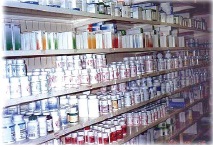 department the department GBP4mn (US$7.56mn) in administration costs and improve patient safety. A two dimensional barcode on prescriptions would reduce transcription errors, increase efficiency and improve communication between family doctors, pharmacists, and the health department." The system is also expected to help stop fraud by cross-referencing patient and prescription information against social security and other records.
The e-prescription service is being delivered as part of the NHS national IT programme in the UK. The programme envisages every GP surgery to have access to the service by 2007 as per original schedule. However, the system has unable to make significant headway beyond pilot schemes.