UNDESA report ranks e-Governance readiness in the Gulf at 50%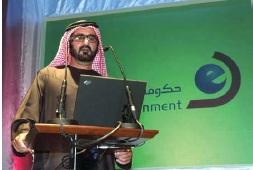 A recent index compiled in a report by the United Nations Department of Economic & Social Affairs (UNDESA) has ranked e-Governance readiness in the Gulf region at approximately 50%. In terms of e-government readiness, the UNDESA report "Global e-Government Readiness Report 2005: From e-Government to e-Inclusion" has ranked the UAE at number one in the GCC region while simultaneously placing it at the 42nd rank in the world. Significantly, the UAE has moved up 18 places from 2004, when it was in the 60th rank in the world. The report has also pointed out the positive movement several GCC countries have made on the e-Government front. Kuwait has moved to 75th rank from number 100 in 2004, while Qatar has moved to 62nd rank from 80th during the period. In 2005, Saudi Arabia has also moved to 80th rank in global position from the 90th place in 2004. However, Bahrain's global position has been affected, and it has slipped seven places, from 46th rank in 2004 to 53rd in 2005. In GCC countries, it occupies 2nd place only after UAE.
The UNDESA report said that UAE has largely succeeded owing to its revamped national portal, which integrates easily locatable information and services through a single gateway. The report praised Qatar for improvement of online service delivery, while terming its e-Government portal as an example of regional best practice when compared to integrated services portals in other countries of the world. Saudi Arabia has also been lauded for taking bold e-Government initiatives of late.
SAR3bn allocated for e-Government program in Saudi Arabia


Saudi Arabia's King Abdullah ibn Abdul Aziz has allocated SAR3bn (US$799mn) for the e-Government program for the first five years. The e-Government program would include 150 main services and more than 1,000 subsidiary services by 40 government agencies. Instructing all government officials and agencies to work for realising the vision of electronic governance and making it a success, King Abdullah said, "The e-Government program would help the public receive distinguished government services through secure electronic means from anywhere and at any time."
Cyber law coming soon in Bahrain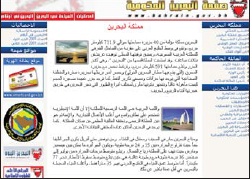 The Kingdom of Bahrain is contemplating to bring in vogue a cyber law intended to protect web users from hackers who create viruses, steal vital information and pose a threat to the economy. The move comes in the wake of a prior warning by a computer security expert that Bahrain's businesses and private Internet users may possibly lose their vital data unless strict cyber legislation was effectively in
place soon.
Shaikh Ahmed bin Ateyatalla Al Khalifa, Central Informatics Organisation (CIO) acting president, said, "We have created a cyber law for the Internet, computers and so on, and have covered everything in it — viruses and hacking. This is the most important thing because with e-Government everything now is done electronically so this is essential for the success of our government. Everybody wants it and with Bahrain as a financial and commercial centre this is one of the most important laws that has to be on the ground."
By 2008, 'Government of Excellence' in UAE
Sultan Al Mansouri, UAE Minister of Governmental Sector Development, has indicated that a radical project intended at transforming the UAE's federal ministries into a 'Government of Excellence' would be shortly launched. The 3-phase plan, which is to be effected in two years, is akin to similar projects implemented in many developed countries. Al Mansouri said, "Two years from now our Government of Excellence will be functioning. The two main features are to have a transparent programme of performance in every transaction and building the e-Government and linking departments."
CIPS conference highlights e-Procurement in ME
The growing adoption of e-Sourcing and e-Procurement in the Middle East has been appropriately highlighted at the inaugural Charted Institute of Purchasing Supply (CIPS) conference held in Dubai recently. The conference witnessed the participation of delegates from across the Middle East and Africa, wherein e-Procurement service providers such as Tejari, Ariba, Quadrem and EOS Technologies also participated.
Addressing the audience, Omar Hijazi, CEO of Tejari, said, "One of the main advantages of e-Procurement is its ability to facilitate good governance through greater efficiency and transparency. There is a lot of mistrust of the Internet, mistrust of technology in the region. We have to emphasise that this platform will save you money, save you time, and allow you to move on to more important strategic tasks. Market forces are changing to make this an ideal time for adoption of
e-Procurement."
New e-Government initiative by Dubai Municipality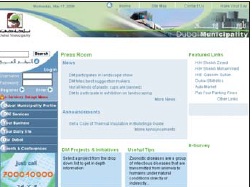 As part of its e-Government initiative to provide the public with visual information products and services including images and videos, Dubai Municipality has unveiled a new electronic service through its official portal www.dm.gov.ae.
Dubai Municipality has entered into a partnership with Photint Technology, and would brand and market the rollout program and deliverables as 'Oyoon'.
Abdullah Al Shaibani, Assistant Director General of Dubai Municipality, said, "The new venture is a natural and logical extension of e-Government services and its purpose is to introduce and provide state-of-the-art visual information products and services."
'e-Governments' cooperation between GCC countries necessary'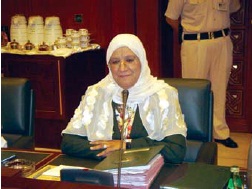 Dr. Maasouma Al Mubarak, Kuwaiti Minister of Planning and Minister of State for Administrative Development Affairs, has said that it is necessary that Gulf Cooperation Council (GCC) countries cooperate among themselves in the field of e-Governments. Praising the role of Kuwait in the implementation of its e-Government, Al Mubarak said, "GCC countries should coordinate among each other to benefit from the expertise of developed countries and consultative firms. GCC governments should also benefit from the Malaysian and Singaporean expertise in the field of electronic governments since they (e-Governments) are highly important in the Gulf to improve performance and facilitate processes for all sides."
UN honour for Dubai Municipality
The United Nations 2006 public services award has been bestowed on the Dubai Municipality in the area of e-Government — the application of information technology and telecommunications in the government sector. As such, Dubai has become the first Arab city to be decorated with such an honour.
Meanwhile, Bruno Fererra, Bero Vertas Quality International Company has awarded the Electronic Services Department of Dubai Police with the
ISO 2000:9001 certificate thus making it the first department specialised in information technology to get ISO in the Middle East. Colonel Ahmad Hamdan Bin Dalmook, Director of the electronic services department of Dubai Police, received the certificate.
Oman's digital society initiative 'eOman' takes shape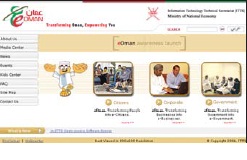 Sultanate of Oman's tryst with the digital era has begun in all earnest with the unveiling of a countrywide e-Government awareness campaign 'eOman' at Muscat's Al Bustan Palace Hotel recently amid the presence of Maqbool bin Ali Sultan, Commerce and Industry Minister, besides royal family members, ministers, heads of diplomatic missions, IT heads and professionals etc. The initiative, which is described as the laying down of an "effective government-community-citizen infrastructure", is being spearheaded by the National Economy Ministry's Information Technology Technical Secretariat (ITTS). A website www.itec. gov.om was also launched on the occasion.
Addressing the gathering, Mohammed bin Nasser Al Khusaibi Secretary-General of the National Economy Ministry and Chairman of the Information Technology Executive Committee, said, "eOman will offer every citizen, business and government entity in Oman a wide variety of convenient, cost-effective and customer-oriented electronic services that will empower and transform life for the better."
Other e-Government initiatives in Oman that are being implemented includes the development of the government electronic services gateway — the 'Ubar' portal, expected to be functional by the end of 2006. Besides, several other schemes like the National Registry System, Smart ID cards for citizens and residents, one-stop-shop for businessmen, an enhanced commercial registration system, 'BankNet' for electronic fund transfer and automated clearing systems.