In Asia, there is growing recognition that e-Government can lead to reduced levels of corruption, more efficient government, greater citizen access to government services and information, and an improved relationship between government and businesses. While some Asian governments have been quick to embrace e-Government, most are still not fully aware of its potential, and many e-Government initiatives are constrained by lack of funds, bureaucratic resistance, or lack of political support. Some countries are already topping the international charts of e-Governance; some have just begun their journey, while there are a few others who are yet to step into the e-Governance arena. Despite these challenges, interest in e-Government continues to gain momentum as governments seek to become more economically competitive, and citizens and businesses demand greater accountability and improved access to services and information. egov Asia 2006 conference highlighted e-Government trends and strategies in Asia bringing forth the challenges and opportunities specific to Asian region. Along with exhibition, it was a forum to showcase best practices, innovative technologies and ICT solutions.
The Event
The conference was held from 26-28 April 2006 at Bangkok, Thailand. The conference was hosted by Centre for Science, Development and Media Studies (CSDMS), India, in association with Ministry of Information and Communication Technology (MoICT) and Ministry of Education, Royal Thai Government, and co-hosted by Danish Technological Institute. The conference was spread over 3 days with 9 plenary sessions, 6 parallel sessions and 2 workshops.  The issues pertaining to multiple aspects of e-Government were deliberated, discussed and debated by the speakers as well as the audience.
The conference was supported by USAID (Indo-USAID Fire (D) Project), UNDP, Asia e-Learning Network, British Council, CompTIA, NOLP-Thailand, CDAC-India, Commission on Higher Education-Thailand, International Academy of CIO-Thailand, NECTEC, EPFL- Switzerland, SIFT, Software Park-Thailand, SIPA, Telecentre.org, SEAMEO, and University of Washington. The institutional partners included National University of Singapore, University of Malaya, Universiti Teknologi Mara – Malaysia, and Rangsit University.  There was a good participation by private sector companies as sponsors and exhibitors of the conference. These included NIIT, NORHTEC, Brainstream, Gilat, Learnet, IMPACT, NEWGEN, NORTEL, Riverbed, SAP, Sybase and Thai Rural Network (TRN).
Participation
The conference saw the participation of more than 450 delegates, representing various key policy makers from government departments, multilateral and bilateral agencies, academic institutions, non-governmental organisations and the IT industry.  From the government sector, there was a representation of Permanent Secretary – Thailand, Deputy Permanent Secretary – MoICT Thailand; Director General – MIE Prefecture, Government of Japan; Director – National Compterisation Agency, Korea; IT Secretary and State Secretaries from India.
From the world of academia, the participant institutions were: Mahidol University, Thailand; Manchester University, UK; IIT-Ahmedabad, India; King Mongkut's University of Technology Thonburi, Thailand; Universiti Teknologi MARA, Malaysia; Sungkyunkwan University, South Korea; Peking University, China; Arab Academy for Science and Technology, Egypt; Institute of Rural Management, India; Sylhet University, Bangladesh; University of Engineering and Technology, Pakistan; Jadavpur University, India; Al-Barkaat Institute of Management, India; Vivekanand Education Society's Institute of Technology,  India; Forum for Information Technology, Nepal; and University of Kelaniya, Sri Lanka.
The delegates from non-governmental organisations and private companies who participated in the conference as speakers included UNESCO, UNDP-APDIP, UNCRD, Asia Foundation, USAID, Development Gateway, Intel, Nortel Networks, Riverbed Technology, CISCO systems, Sybase, Newgen, NIIT, Wipro, Infotech, Sun Microsystems, Gilat and EPFL.
Proceedings
The three-day conference was inaugurated by Suchai Charoenratana, Minister of ICT, Ministry of Information and Communication Technology, Royal Thai Government, Thailand and Chaturon Chaisang, Minister of Education, Ministry of Education, Royal Thai Government, Thailand. It was first time in the history of Thailand that two ministers graced a conference, thus, highlighting the importance accorded to the event and the commitment towards e-Government by the Thailand government.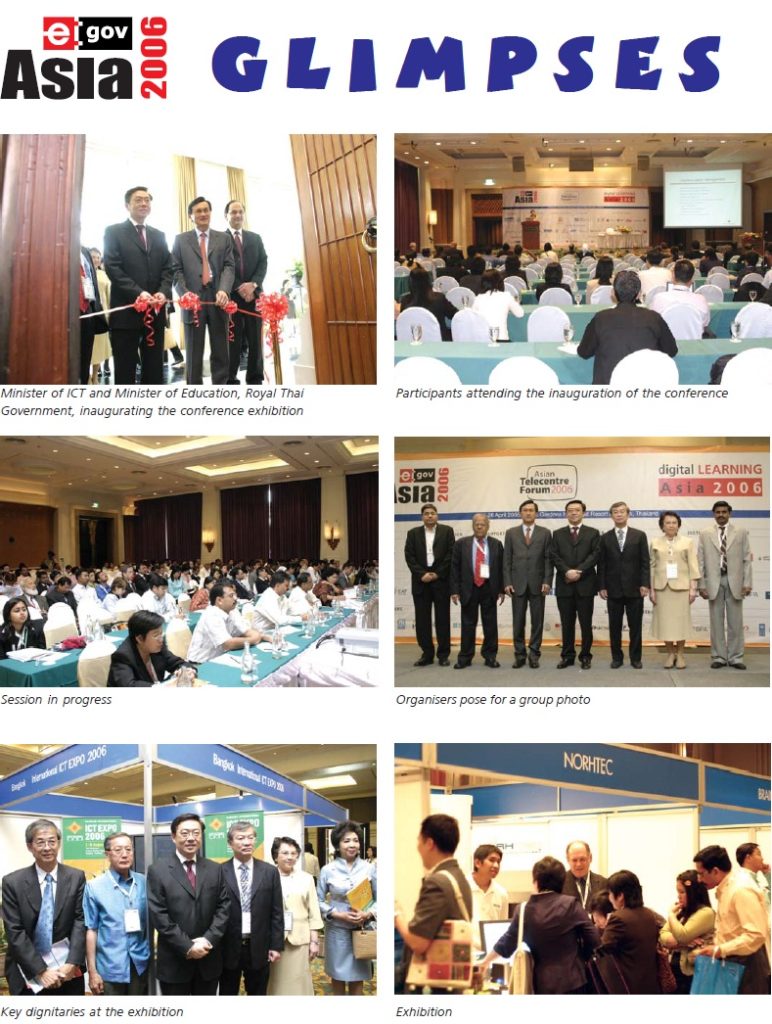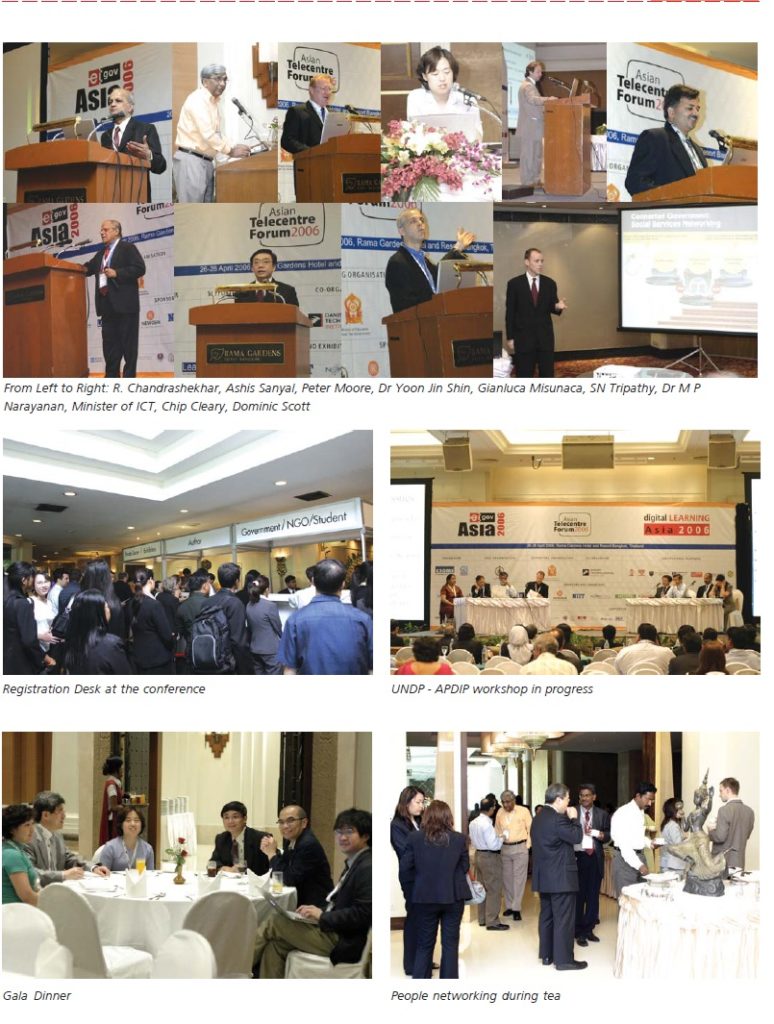 Speaking on the inauguration of the conference, Dr. Susanne Ornager, UNESCO Adviser for Communication and Information, Bangkok, Thailand, said, "e-Readiness in Asia is not simply a matter of the number of computer servers, websites, and mobile phones in the country, but also things such as its citizen's ability to utilise technology skillfully, the transparency of its business and legal systems, and the extent to which governments encourage the use of digital technologies."
Giving the vision statement of the conference R. Chandrashekhar, Additional Secretary, Ministry of Information Technology, India, stressed on ensuring universal service availability. "Leveraged appropriately, e-Governance can trigger a new paradigm of ICT-enabled development," said Chandrashekhar. According to him, imaginatively linking the e-Governance agenda with the governance agenda and the development agenda of the country holds the key.
Key Issues
Some of the key issues that emerged from the on various aspects of e-Government are as follows:
• Capacities of e-Leaders in the changing government scenario is to be able to design and steer cross-sector partnerships, as well as managing the outsourcing of processes and the deployment of interfaces with the civil-society in a user-centric perspective
• Procurement policies that limit the available market for ICT solutions subvert sound internationally recognised economic, trade and IPR principles
• Merit-based policies best serve local citizens and industry enhancing the development of the local economy and exports
• A sequential implementation of various e-Government services and emergence of single electronic gateway will require corresponding alignment of human inputs with technological and operational configurations
• An expanded definition of e-Governance should be adopted that exceeds the traditional view of e-Government – focusing on improved service delivery and internal re-engineering of government – if it is to be used to as a tool for anti-corruption initiatives
• Security is a strategic investment because it protects enterprise assets and revenue stream
• Cyber city has multiple benefits
for e-Government such as
increased digital reach, intelligent transportation system, community security, e-Learning, mobile commerce, and so on
• The new 'connected government model' requires the pervasive application of networked ICT. The networked ICT delivers desired results only when deployed with appropriate design principles and underlying architectures
Feedback
I think my participation in egov Asia 2006 was a wonderful experience. I would like to commend the effort of all you in putting up such a nice event and gathering the large number of eminent people under one roof.
NIIT The quality of egov Asia 2006 conference presentations and the attendees were very good. I met with a good number of key players in the ICT sector, both new and those with whom I know. It is a good event to network, to get updated information and intelligence on the markets, development, trend and technologies as well as to develop business connection/opportunities. On the exhibition part, as I know from the Canadian exhibitor, they found the event interesting and also met a number of new customers. Canadian High Commisssion,Thailand
Exhibition and Workshops
Through the exhibition, the conference provided an opportunity for updating on new advancements, solutions and services in the field of e-Governance. The event had different exhibitors from the government and industry, who showcased a wide range of products, services and initiatives in the domain of e-Government. These included Brainstream, GIS Development, IMPACT, Learnet, Ministry of ICT and Ministry of Education- Royal Thai Government, NECTEC, NEWGEN, NIIT, NORHTEC, NORTEL, SEAMEO, SIPA, SITF, Software Park, Sybase and UNDP.There were two workshops that provided an opportunity for delegates to interact and share with each other their viewpoints and experiences in various aspects of e-Government. The workshop 'Public Health Information System: Roadmap for Thailand', was organised in collaboration with the Thai Health Promotion Foundation. The workshop aimed at creating awareness about the linkages between Public Health Information System and e-Government and its benefits for the masses. The other workshop 'Open Source versus Open Standards', organized by National Electronics and Computer Technology Centre (NECTEC) aimed to create understanding about the importance of open standards and to promote the use of open standards in Thailand.
Conclusion
The egov Asia 2006 conference truly provided a knowledge-sharing platform and a forum for policymakers, practitioners, industry leaders and academicians of Asia-Pacific nations to carry forward the e-Government vision of the region and consolidate them into actionable program, through collaborative learning and partnerships.