Can ICT improve public service delivery in Burkina Faso?
By Ramata Soré
In Burkina Faso, a country with very low ICT penetration, some government services have been put online, but the lack of access by the majority of the population means that e-government must be balanced with traditional means of disseminating public information.
Overcoming obstacles
Access to advanced ICTs in Burkina Faso is very low due to infrastructure limitations and a lack of training and financing for such tools. In less developed countries like Burkina, traditional media such as print, radio and TV are still indispensable for reaching the public and must be part of the government's information and communication strategy. Otherwise, e-government will result in "two-tier" government, with a large part of the population left with less access to government information, not more.
The perception that Burkina Faso is not totally ready for e-government extends even to DELGI, the informatics ministry responsible for the overall strategy. One official there said that Burkina is responding to outside pressure in instituting e-government: it was "an international imposition. We had to put information online because the Wester-ners did it and asked us to do the same."
To put the Burkina Faso online presence in context, a UNDP study of 190 countries showed that 169 of them had government websites. Of these, 17 were sophisticated enough to handle electronic payments, 32 of the sites were simply a web presence with information about such things as government ministers, and 55 sites allowed people to download documents and interact with ministries by email.
The Burkina Faso government's online presence falls into this intermediate category. Although it is not very interactive and does not include facilities for applying for identity cards and paying taxes, for example, the sites are nevertheless helping to improve transparency and efficiency. The Ministry of Finance has published on its website various useful documents including forms and information about its operations.
"E-government is in an embryonic state in this country," says Augustin Coulibaly, a senior staffer at the Ministry of Finance."Complex transactions like online payment and applying for identity papers require a high level of security, confidentiality, and verification of identity. At the minimum, the information online needs to be absolutely accurate and up to date, or the web site is worthless."
DELGI is responsible for putting in place a programme of modernisation of government services. It is installing a public service intranet/extranet and rolling out a national network to respond to the communication and information needs of a public administration that is undergoing a decentralization process and that therefore requires good information links between the capital and the regions. Eleven public institutions now have Internet access. The more this resource is used to deliver better quality public services, the more ICTs will be appreciated by the Burkinabè public.
A tool for democracy
ICTs can make it possible to carry out participatory consultation processes with citizens and business regarding administrative and political decisions. For this to happen, Burkinabès would have to undergo a change in mentality. Representative democracy needs ICTs in order to enable a fluid public discourse. "ICTs can enable elected officials to better fulfil their role as representatives of local constituencies by allowing them to monitor legislative processes from a distance," says Professor Augustin Loada, executive secretary of the Centre pour la bonne gouvernance (CGD).
In November 2005 there will be elections in Burkina Faso. Only four out of 136 political parties have websites. The information on these sites is similar: history of the party and an account of current activities. After the elections, parliamentary websites will be able to publish information about the winning candidates, including biographical and contact information. This objective information is not to be confused with the political websites posted by individual candidates and elected officials designed to sell his or her message to voters.
ICTs are a tool for public participation and can change the relationship between government and citizen from one of master and servant to one of service provider and client. This process is still proceeding slowly in our country. The State still
has problems of capacity, content, management and regulation to overcome before it can fully adopt ICT into its operations.
The Government portal project: e-Governance in Ghana
 By John Yarney
In Ghana today, anyone can sidestep the hindrances associated with bureaucracy and access government information such as the country's budget statements via the Ghana government's portal at www.ghana.gov.gh. This access is one of the benefits of the government portal project, according to Alphonse Koblavie, Deputy Director of Information of Ghana's Information Services Department and leader of the team implementing the portal project. "The public can access government information anytime and anywhere provided they have net access," he explains.
Government services go online
The portal project has operated on a pilot basis since 2003, when Ghana's Ministry of Information entered into an agreement with the International Institute for Communication and Development (IICD) to enhance the existing official National website at www.ghana.gov.gh, creating online delivery of government services to the people. The portal's managers are now on the verge of executing the first phase of the actual portal project, which will include enhancing the content of the portal, adding more pages, and networking all the regional information offices of the Ghana's Information Services Department.
The project's implementers defined two objectives for the pilot: first, to demonstrate how the government of Ghana could make effective use of web technologies to disseminate government information; and secondly, to examine the potential demand for government information and other e-government services among citizens and to consider how that demand could best be met at the local level. The project leaders would then advise government on appropriate strategies and actions to be taken to extend e-Governance at the national and local levels.
Currently, the portal provides briefs on all branches of government and links to institutions that have websites. It also has an archive of draft policies, reports, speeches and other official documents in addition to its news pages. And it displays general information on events, visiting, investing and studying in Ghana.
Citizen Interest vs Cost Barriers
According to the project's implementers, the reaction of the Ghanaian citizenry towards the Ghanaian government portal has been favourable. On average, at least 15 enquires are directed daily to the government through the portal.
Increasingly, the portal is also serving as a link between would-be foreign investors and Ghana's Investment Promotion Centre (GIPC). Managers of the website say they receive a significant number of investment enquiries, and they suggest that foreign investors find the site credible because it originates from the national government.
But despite these positive reactions, the bulk of the citizenry cannot access the service because of illiteracy or lack of connectivity to the Internet. Most Ghanaians receive information via the radio. A survey — the third round of the Afrobarometer survey conducted in Ghana by the Ghana Centre for Democracy and Development (CDD) — confirmed this reality.  The survey, which measures indicators such as governance, economic reform and quality of life, found out that 67 per cent of respondents received their information from radio, and 83 per cent of respondents said they trusted that source, and especially the national broadcaster. Newspapers and TV followed radio respectively.
"A lot more people have access to radio than to other media. We did not even include the Internet [in the survey], but if we had it would have made a poor showing," said Edem Selormey, Afrobarometer Team Member. Selormey notes that very few people have access to the Internet, whereas radios are inexpensive and people can listen to programmes in their local dialect, thanks to community radio and local language programming on most FM stations.
Ghana's portal project has made some arrangements to deliver its services to citizens who do not have Internet connectivity, but so far these plans do not reach far enough. However, all of the country's ten regional information offices can use the portal to locate and provide information to disseminate by other traditional means in their jurisdictions.
Project challenges
There are fundamental issues beyond combining traditional and new media to deliver government information and services to the citizenry. Of course, funding remains a key issue. According to the portal's managers, the first phase has stalled because of the delay in receiving funds from partners.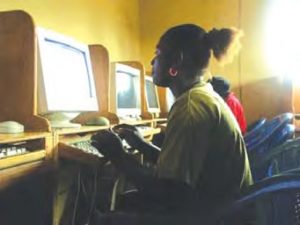 Human resource issues also remain critical to the project's survival. According to managers, remuneration and motivation for staff of the project could be much better, and there remains the need to develop the technical competencies of the team. "You can bring new ideas," stresses project leader Koblavie, "but you still need a team to implement and sustain it."
Furthermore, equipment must be regularly updated to keep to the project afloat. Implementers reason that because of the 24-hour operation of the project, it is essential to replace equipment every one and a half years. Finally, gathering information from the relevant governmental institutions remains a significant challenge. However, the advances made to this point suggest that with support the project will continue to provide important benefits.
The right choice for development: e-Governance in Mali
By Almahady Moustapha Cissé
Mali's ambitious government ICT project seeks to use the new Information and Communication Technologies (ICTs) as a development and anti-poverty tool for achieving the Millennium Development Goals. The main objective: to make ICTs an instrument of good governance. According to Gaoussou Drabo, the Minister for Communication and New Information Technologies, ICTs can serve as tools for opening up isolated areas of the country to the outside world, thus contributing to the fight against poverty and helping the democratic process to take root. This vision drives the government's ICT project.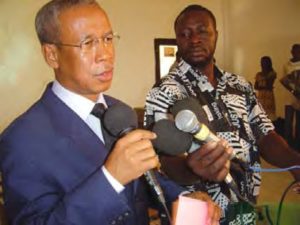 The Minister of Communication and ICT, Mali, Mr. Gaoussou Drabo
The project has two components. The first is the modernisation of government and the establishment of a network encompassing all ministerial departments and public services, including their subordinate directorates at national and regional level. The second involves connecting the country's 703 municipalities to the Internet.
According to Moulaye Sidaly Haïdara, Managing Director of the Implementing Agency for Information and Communication Technologies (AGETIC), the first objective, creating a government network, is well under way: "To date [September 2005], we have connected 14 departments and central services…. By the end of the year, we expect to have completed the 16 remaining departments."
Mali has 27 ministerial departments and three central services – the Presidency of the Republic, the Primature (Prime Minister's Office) and the government's General Secretariat – making a total of 30 entities to be connected. "If we complete this task, a large proportion of all government administrative work will be done on-line," he noted. This huge project will be spread over three years, from 2005 to 2007. The Managing Director of AGETIC reveals that the project in fact began in 2004-05, using domestic financing. For the next three years, 2006-08, the European Union will provide funding in the amount of 6 billion CFA francs.
ICTs foster good governance
"In development circles, we are always talking about good governance, and this notion is included in the government's Intranet project," says Touré Aïssata Lady, an AGETIC official. By way of example, she points to the contribution made by ICTs in managing the locust invasion that afflicted Mali in 2004: "ICTs made it possible to localise the invasion of desert locusts thanks to the GPS system."
According to Ousmane Bamba, a lawyer and expert on ICTs, these technologies can facilitate the democratic process. "With ICTs, we can ensure fair elections through the use of an electoral database based on biometrics. The financial advantages will also be substantial", says Bamba, citing a study showing that in Mali the state spends the colossal sum of 6 billion CFA francs per year on communication via telephone and fax.
As Mamadou Iam Diallo, technical advisor to the Ministry for Communication and New Information Technologies, notes, "The lntranet allows the government to communicate both internally and with users." Diallo contends that ICTs are the right strategic choice for development, since, as he argues, the main costs incurred will be those for the initial investment. His conclusion: information technology, and ICTs in general, are tools that can foster good governance and development.
Connecting municipalities
The second major component of Mali's ICT project involves connecting the country's 703 municipalities to the Internet. Wiring all local communities is a long-standing dream first voiced in 2000 by former President of the Republic Alpha Oumar Konaré. "This dream is now becoming a reality," declares AGETIC head Haïdara with a smile. Connecting towns to the Internet will give users direct access to information on their civil status and to many other kinds of data that they can currently obtain only by going through a multitude of bureaucratic procedures. In view of the size of the country, the government has broken
down the project schedule into phases.
"Our connection to the Internet is a wind of modernity blowing through our town. I am sure that it will resolve our communication difficulties and make up for the shortage of information that we experience every day in managing municipal affairs," said Souleymane Dougnon, the mayor of Commune VI of Bamako District, thanking the Ministry for Communication and New Information Technologies.
His counterpart in Kati, Yoro Ouologuem, expressed the same feelings of satisfaction and gratitude. In his view, connecting municipalities to the Internet means the dawn of new era for local autho-rities. The initiative should be encouraged and there is a need to extend it to all communities in the country, he asserted.
The availability of electricity and telephone service, but even more impor-tantly the involvement of the local population, were the selection criteria used for the test phase of the "Internet in local communities" project. "Above all," says Minister Drabo, "we are strengthe-ning the decentralisation process while at the same time reducing the isolation of local communities and authorities by bringing citizens closer to government in order to establish practices of good governance."
Successes and Challenges: e-Governance in Tanzania
By Aloyce Menda
Tanzania resembles most developing countries in being faced with a myriad of economic challenges and extensive rural poverty. However, unlike many African countries, Tanzania can boast of peace since attaining political independence from Britain four decades ago.
The Kinondoni Municipal Council Project
Tanzanian e-Governance is in its infancy. The central government website (www. tanzania.go.tz) was inaugurated in 2000 and since then some government branches and local government autho-rities have focused on e-Governance initiatives. Currently, an elaborate e-government strategy has been approved by cabinet and is awaiting implementation. The e-Governance project was the brain child of the Tanzanian Commission of Science and Technology (COSTECH), intended as a follow-up to the recommen-dation of the 1998 national ICT round table on Governance facilitated by IICD.  The project proposal followed a feasibi-lity study of August 1998 conducted to investigate, identify and recommend possible areas for sustainable computeri-zation in the local governments.
The feasibility study identified data flow patterns and their reporting mechanisms within and across various government sectors. The COSTECH director of information, Mr. Theophilus Mlaki approached the Kinondoni Municipal Council (KMC) administration in 1998 to propose that it host the pilot e-government project. KMC is one of three municipal councils that forms Dar es Salaam City Council (DCC), the top authority of the de-facto capital of Tanzania.
Mlaki and his team from COSTECH faced a challenge in illustrating to key KMC officials how ICT and the e-government project would improve the KMC performance in all departments. The main concerns of KMC were cost saving and improvement in tax revenue collection, so theCOSTECH team had to demonstrate how the e-Governance project would boost good governance as well as revenue collection and service delivery without excessive costs and extra burden to tax payers. They succeeded and the pilot project took off in 1999 with financial and technical support from IICD and COSTECH. Thus the KMC became the first of the 126 local government authorities of Mainland Tanzania (municipalities and districts) to initiate an e-Governance project.
"At that time there were only two office computers at the headquarters," says Mlaki as he explains the challenges encountered in presenting the e-Governance idea to the KMC leadership. Computers for the project were provided by IICD – and today there are more than 120 computers in use, most with Internet access, according to Mr. Joash Nyitambe, the IT consultant for KMC.
As one of the three municipal councils of the major city of Tanzania, KMC has many political, economical, social and administrative responsibilities. These include social (education and health) services delivery, tax collection, business licensing, council elections supervision, basic infrastructure (roads, water supply, etc) construction and maintenance, waste management, and the maintenance of security, law and order. However, the COSTECH feasibility study had earlier revealed that most of these tasks were manually processed and were largely ineffective and inefficient. Transparency was limited by a slow flow of information which impeded direct access to KMC public services.
Moreover, due to lack of a compute-rized Management Information System (MIS), the KMC resources were poorly managed, which translated into poor public services. The KMC project thus established a pilot MIS for the top administration. Databases for various services and records, such as health, education, birth, marriage and death, are computerized to facilitate good gover-nance and to accelerate public services and the compilation of various social services reports. The process of registe-ring and issuing birth, marriage and death certificates is now ten times faster than before the project inauguration. The project has also enhanced the manage-ment and processing of matters pertaining to foreign trade and investment in Kinondoni district.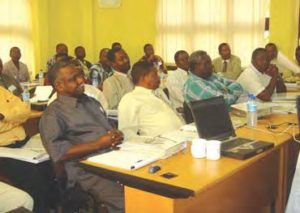 Discussion meeting in Tanzania
Creating transparency and efficiency
A vivid example of e-Governance's capacity to boost transparency in govern-ment operations at the local level and to minimize the loopholes for corruption can be found in the realms of business licensing and tax collection, which were extremely cumbersome before the e-Governance project. Business licensing was contaminated with elements of corruption due to the slow manual processes – often a week or more – that lacked transparency. Today such elements are almost eliminated and businesspeople can process a license in one day. Furthermore, KMC administration has publicly started that the project is boosting revenue collections in all sectors and has reduced to the minimum public complaints about victimization, favoritism and corruption in taxation procedures.
Today few IT experts can talk about e-Governance in Tanzania without referring to the KMC. The project bears those characteristics which mark modern ICT as a new engine of development: efficient interactivity, permanent (24 hour) network availability, a global reach through the Internet, and reduced costs. The project embodies exactly what the United Nations' Millennium Development Goals (MDGs) specify: "People centered development".
Transforming local government: e-Governance in Uganda
By Davis Weddi
In response to the high costs and inefficient labour involved in running a government, some forward-looking Ugandans have developed the concept of e-Governance to minimize the expenses involved in the local administration of the country's districts. Participants in various sectors are striving to use ICTs to prompt changes in the standards and delivery of local government services and, more importantly, in the way citizens interact and participate in governance.
Local government transparency via district net
Uganda's e-Government initiative, known formally as The District Administrative Network Project and more commonly as District Net, was designed for Uganda's Ministry of Local Government. As current National Project Coordinator Engineer Stephen Dagada explains, "This project was born during a round-table conference in 2002, when we realised that there was a need for transparent governance in the Ministry of Local Government." It immediately caught the imagination of central government and international donors who provided support for its pilot phase. Among the external funders were the International Institute of Communication for Development (IICD) and the UK Department for International Development (DFID), who have followed this project from its start.
With external funding for one and a half years, District Net was initially implemented in 2002 in four districts – Mbarara, Lira, Mbale and Kayunga, representing the country's west, north, east and central regions, respectively – with the hope that, if successful, it would be extended to the rest of the country. The project set out to remove obstacles to communication links among the district headquarters, central government agencies and other stakeholders working with districts, and to address problems of inadequate ICT basic skills among the district staff. The Local Government Ministrystates that the District Net project was created "to improve performance in the Local Governments by establishing functional data/ information management and public communication systems for effective and efficiency service delivery in decentralised governance.
Hence, this project was created under the slogan 'ICT for Rural Development!'" According to Constantine Bitwayiki, who has worked on the project, "Districts were faced with challenges in funding routine administrative expenses. For interoffice communication, staff travelled to Kampala, the capital of Uganda, to deliver and collect routine documents. In addition, data and information for planning and other decision-making functions were often inaccurate or unavailable when needed."
International observers have followed Uganda's e-Governance developments closely. Major media and news teams have streamed to Kayunga District to interview people about one of the most successful pilot projects, and the District Net project has even been nominated for the Stockholm Challenge. By the start of 2005, the project had entered into a mainstreaming phase, and has now acquired private sector partners in addition to government, IICD and DFID. Today, Ugandans are coming to realise that e-Governance can bring individuals into close contact with decision-makers and officials in the government.
Connecting constituents
Soon after the District Net project's 2002 kick-off, implementers began installing Local Area Networks (LAN), Wide Are Networks (WAN), e-mail and internet systems, as well as data and voice communication links between District headquarters, the pilot sub-counties and the central government headquarters. Through the project, the Ministry of Local Government established computerized databanks and information dissemination systems, and initiated an extensive training programme for users (mostly district officials) in basic ICT skills and the use of basic computer applications.
So far, the districts where the project was implemented have made savings in administrative expenses, "freeing these funds to be used to other pressing economic activities geared towards economic development initiatives," says Bitwayiki. "In addition to improvement in communication channels, we are seeing that users are accessing useful information for planning purposes. In social terms, the communities in the districts covered by the project have been sensitized about the usefulness of utilizing ICTs and how these technologies can bolster development," he adds.
The future of district net
Implementers of the pilot phase have learnt an important lesson: "Think big but begin small. Piloting is the way!" The pilot activities are now being replicated in other projects and programmes and implemented in other districts.
In order for District Net to work, it must be supported by human capital and an enabling environment. "Change management is critical," Bitwayiki stresses. Whether ICTs prove to be a sustainable solution for enhanced communication and information flow "depends on the willingness of the human capital to tackle the challenges in a sustainable manner." Although the ICTs introduced are user-friendly, new technologies will inevitably require time for people to adapt to them. And, of course, the financial cost of implementation is daunting. While the local beneficiaries have tried to contribute, they have confronted difficulty because their tax base is still very small.
But the costs of failure would be greater. Dagada, the current project leader, emphasizes that ICTs are essential. "The challenge is that ICTs may be expensive, but they are necessary and useful. We need to find all means of mainstreaming the project in order to lower operating costs like transport and production of documents. Our ability to replace the traditional methods of operation and to beat the bureaucracy in local governments will extend the life of District Net."
Boosting local authorities: e-Governance in Zambia
By Kabukabu Mambwe
Countries around the world are striving to incorporate e-Governance as a means of improving transparency and good governance in the public sector. Sadly, this trend has eluded the Zambian public sector, where the potential for e-Governance is not being fully utilized.
Promoting efficiency and transparency
In order to promote efficiency and transparent governance in the African public service, UNESCO and the Danish International Development Agency (DANIDA) conceived a three-year pilot project on "e-Governance for African Municipalities".  This pilot project  began in 2001 and involved selected municipalities from five  African countries: Mali, Mozambique, Niger, Tanzania, and Zambia.
Lusaka, Zambia's capital, was the country's representative in this project.
The project's promoters noted thatAfrican municipalities are often heavy bureaucratic structures with unclear procedures and processes for treating requests from city residents. Furthermore, these municipalities tend to function in isolation and fail to benefit from the experiences and best practices of other municipalities within their country or region. The project aimed to ensure transparency and citizen participation in governance, and, while building on existing community facilities, also involved developing websites so that municipalities could share and exchange experiences.To meet these goals, the pilot emphasised two major components: developing a multimedia training package for municipal personnel; and developing pilot applications in the selected municipalities. The equipment and training ncessary to achieve these goals also formed a critical element of the project.
The Lusaka City Council Project
The Lusaka project, involving the Lusaka City Council (LCC), is headquartered in the city's civic center building. According to LCC IT Manager Judy Beene, also the LCC project supervisor,  the project's objective is to promote free flow of information and thus to open dialogue among municipalities and the local communities they serve. In addition, the project strives to improve access to information required for decision making, to communicate effectively with citizens and to establish a municipal information system using ICTs.
"There has been a spirit of teamwork on the project from representatives of the departments within the City Council," says Beene. The e-Governance project has transformed the LCC into a knowledge hub and could be used as a tool for service delivery and revenue generation, as well as a teaching and learning centre for e-commerce, she says.
As the local government has a profound impact on the lives of citizens, the governance processes and structures that accompany it must be – and are becoming – participatory, transparent, and accountable. "These objectives are becoming a reality in Lusaka City Council through the newly-built website, which will open dialogue between the Council and the community it serves," Beene says.
The LCC can now use ICTs as a means of improving responsiveness and reliability in its services. As Beene explains, ICTs could improve economic opportunities, lower the cost of delivery of public and private goods, help streamline the bureaucracy, enhance the transparency in the institution's administration, and improve productivity. For instance, internet connectivity has boosted the Council's operations by improving communication among the workers, about 50% of whom are now using ICTs. The local network has also streamlined the operations of the Rates Department, as they are able to update their records on a regular basis.
In the past, citizens had to walk to the LCC headquarters to access information; today, Beene says, the project has opened municipal services to the city's population. In time, she says, the minutes for the full council meetings will be posted online, enabling members of the public to know what transpires in these meetings. Through the website people can come to know their councilors in the wards, to learn of development projects and to explore the Council's delivery of services. However, the website has not yet been launched for full public access
The website of Lusaka City Council
Funding challenges
Unfortunately, the LCC project suffered a set back when the funders did not release the last parcel of funding for training council workers in e-Governance. According to Beene, there has been little feedback from UNESCO and DANIDA, the project's initiators. The shortage of funds has also stalled the creation of the Public Information Center, and further budget constraints, owing in part to escalating prices of equipment, have meant that
staff was not properly trained for network administration and web design maintenance.
Project results
"There has been a spirit of teamwork on the project from representatives of the departments within the City Council," says LCC IT manager Judy Beene. The e-Governance project has trans-formed the LCC into a knowledge hub and could be used as a tool for service delivery and revenue generation, as well as a teaching and learning centre for e-commerce, she says. The project has achieved significant results as the Council can now communicate with other countries through the Internet.
The LCC has about 1500 workers but so far only those who work at the headquarters have access to the Internet. "We require more computers for use at other sites, so we will need supporters to come to our aid," says Makanta, who explains that the City Council intends to use the website  (www.iicd.gov.zm) to post calendars of events and other initiatives that would assist donors who wish to help the LCC in expanding the e-Governance initiative.
As the local government has a profound impact on the lives of citizens, the governance processes and structures that accompany it must be – and are becoming – participatory, transparent, and accountable. "These objectives are becoming a reality in Lusaka City Council through the newly-built website, which will open dialogue between the Council and the community it serves," Beene says.
The LCC is searching for financing alternatives to help establish an Information Centre to improve interaction with the public and to enlighten people on the benefits of e-Governance, still very much in its infancy in Zambia. Although e-Gov has opened a window on new opportunities for the LCC, its workers need training sessions both to improve their basic computer and ICT skills and to help educate the public on how to use ICT to interact with the LCC effectively.